Britains 43156: Big Farm New Holland T7.270 Tractor, 1:16 Scale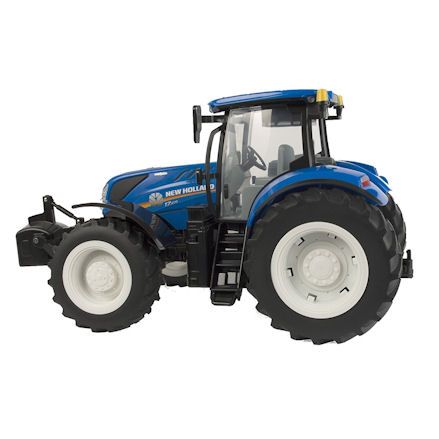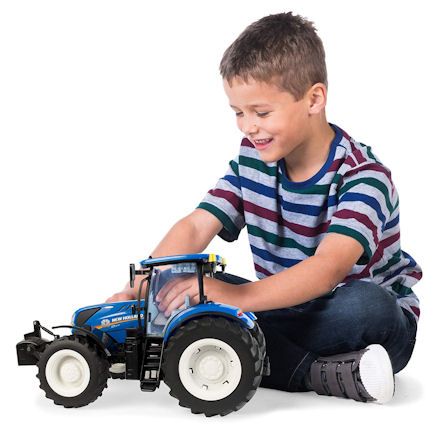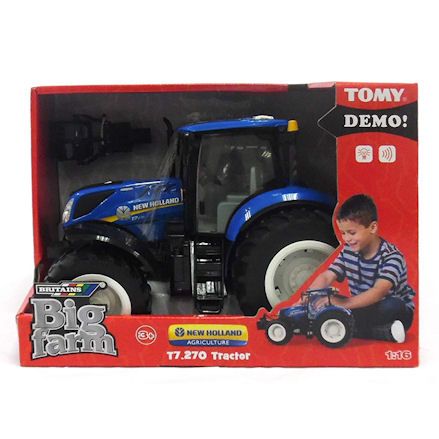 Britains 43156: Big Farm New Holland T7.270 Tractor, 1:16 Scale
Get the job done right with this compact Big Farm New Holland tractor in 1:16 scale; features opening bonnet, rear tow hitch, steering and removable cab.
Brand:
Britains Big Farm
Product description
All that is right with a New Holland tractor is replicated on this 1:16 scale model, with the shape of the body 100% deplicated; with wing mirrors, steps, cab exterior, lights and exhaust all in the correct spot.
Focus on this tractor would be on the driver's cab as its here is where the cab can be removed so they can steer the front wheels using the actual steering wheel in the cab.
Similarly, there's no need to remove the cab as its possible to reach through the back of the cab window to steer from there - only by removing the cab its less restrictive and arkward.
Alternatively, they can steer the front wheels by hand without use of the steering wheel. And as the wheels are free rolling with deep treads on the tyres, there's no limitations.
You'll need to fix the counter-weight out of the box as its needed when they tow heavy implements or trailers that would otherwise course the tractor to tip up without the counter-weight present.
Features
Item No: 43156
Scale: 1:16
Age: 3 years and up
Presented in open display box
Made from durable plastic
Flashing lights and sounds
Tow hitch, counter-weight
Removable cab, opening bonnet
Dimensions: L34 x W24 x H22.5 cm
Weight: 848g
Manufacturer details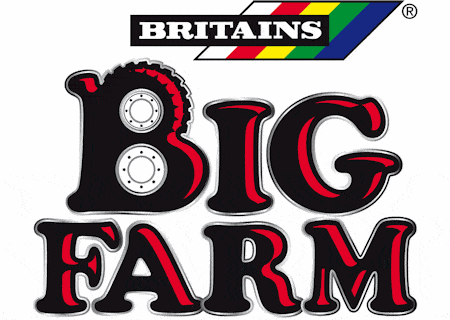 Released 2016, as this is a new model it has more detail and care in the overall design. With a more detailed interior driver's cab, original exterior decor and the shape only associated with New Holland. You see previous releases had a familar look and feel, it was only later Britains started to design the tractor on the manufacturer's design, as shown on this model.
Guide to Britains Big Farm New Holland T7.270 Tractor
Get to know what this model has to offer in terms of active steering, rolling wheels, removable cab and opening bonnet, tow hitch and a detachable counter-weight.
New Holland T7.270 Tractor
If you've ever seen a New Holland tractor passing on the road, one thing you'll notice is the small size of the body compare too other tractors, and that's reflected in this model.
But its not without its original exterior secor; including exhaust, mud guards, wing mirrors, steps leading to the cab with the detail of the cabins interior nicely replicated.
Lights & Sounds
You should know by now that the Big Farm tractors all have lights and sounds, with this one offering identical flashing lights coming from the cab/headlights along with engine reversing sounds.
Three AAA batteries are required but are included with this tractors; and well installed safely in the battery compartment, you may think about removing them to stop the noise.
Counter-Weight with Tow Hitch
Once removed out of the box you'll first need to attach the counter-weight onto the front of the tractor before it goes missing - is not attached well in the box due to size restrictions.
But what this counter-weights - in the imagination only as its not really functional - is keep the weight balanced well towing heavy implements and trailers, using the compatible rear tow hitch.
Rolling Wheels with Steering
To get the best out of the Big Farm New Holland tractor its equiped with free-rolling wheels so there's no restrictive gimmick like fiction powered or pull back and go action.
Instead we have a simple push along/backwards tractor by hand, with deep treads and steering controlled by the two front wheels; simply steer by hand or remove cab to access steering wheel.
Britains
This item: Britains 43156: Big Farm New Holland T7.270 Tractor
Age: 3 Years
Scale: 1:16
L34 x W24 x H22.5 cm
Weight: 848g
Britains
Age: 3 Years
Scale: 1:16
L33.4 x W24.6 x H22 cm
Weight: 200g
Britains
Age: 3 Years
Scale: 1:16
L33.4 x W24.6 x H22 cm
Weight: 998g
SHOP BY THEME
SHOP BY
INFORMATION