Britains 43078: Big Farm Massey Ferguson 6613 Tractor, 1:16 Scale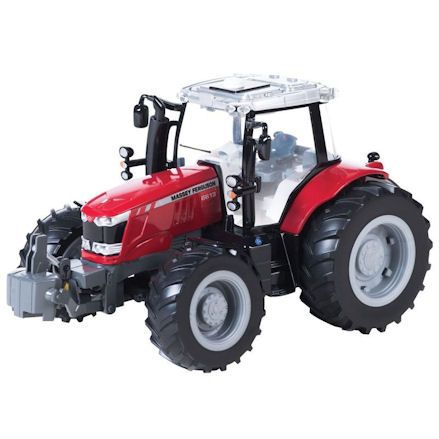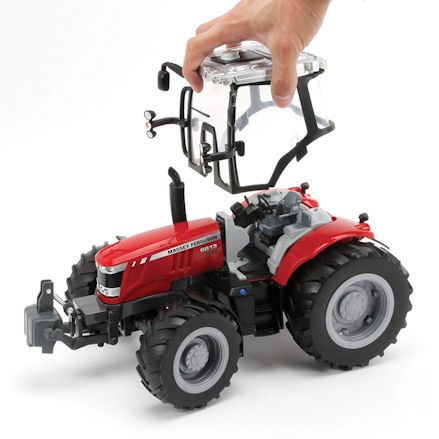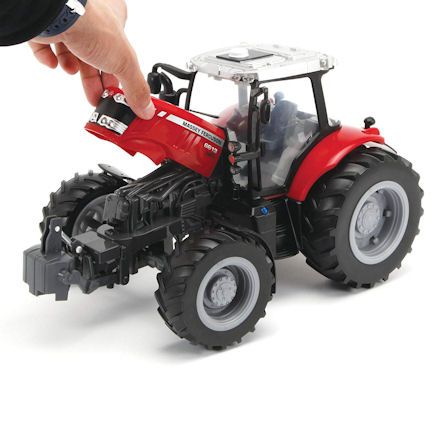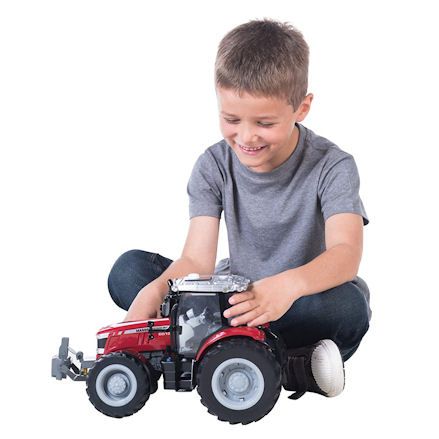 Britains 43078: Big Farm Massey Ferguson 6613 Tractor, 1:16 Scale
Wider than normal Big Farm Massey Ferguson tractor with rear tow hitch, lights and sounds, opening bonnet, removable cab and a front counter-weight.
Brand:
Britains
Product description
When we say wider than normal we are in deed talking about the width of the tractor being wider than all other models in the series, and that's without dual wheels connected.
But what you do get is a big toy tractor that has more detail, with a unqiue body shape only associated with Massey, with even a highly detailed counter-weight.
Of course we can tow any Big Farm trailer or implement as we choose thanks to the compatible tow hitch positioned on the rear, between the big back wheels.
Control the front two wheels by hand or remove the detachable cabin to access the little steering wheel which has a left/right movement.
And that's helped with rubberised deep tread tyres allowing them to roll over all sorts of rough terrain.
Well we have an exhaust, mud guards, wing mirrors and imitation lights, there's also real working flashing lights on the cab well the noisey engine and reversing sounds omit from the cab too.
Features
Item No: 43078
Scale: 1:16
Age: 3 years and up
Presented in open display box
Made from durable plastic
Remove cab, opening bonnet
Real steering, rolling wheels
Lights and sounds
Tow hitch, counter-weight
Dimensions: L28 x W21.5 x H21 cm
Weight: 848g
Manufacturer details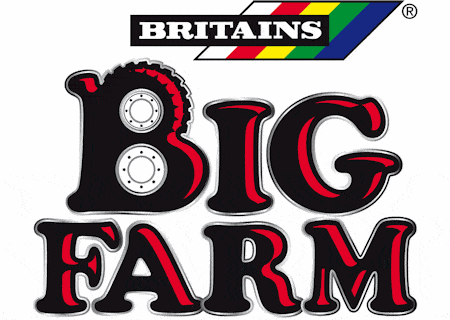 Relatetively newish release in terms of the Big Farm range anyways, and well this model features all the usual functions, it is very different in shape and size. Well we can associate all previous models with a similar design, this one is can only be matched to the Massey Ferguson brand. As its the newest release, we also get greater detail and care in the design.
Guide to Britains Big Farm Massey Ferguson 6613 Tractor
There's things to learn to get the most out of the Massey Ferguson tractor so allow us to highlight the top features and functionality to get you off the ground running.
Massey Ferguson 6613 Tractor
Well this model is equipped with glazed windows with removable driver's cab, opening bonnet, counter weight and tow hitch, we can distinguise this one as a Massey Ferguson from the shape and size.
Take the squared-off cabin and in some ways the bonnet too, but what this Big Farm tractor has that other don't is the width, with a wider than usual rear back wheels.
Opening Engine Bonnet
What better way to keep the role play going than having a opening bonnet so they can get involved playing tractor driver as well has repair man or women - well the Bruder figures in 1:16 scale would be a good fit.
Opening up the bonnet reveals a solid engine block with much detail, well the lower end of the engine is still revealed well the bonnet is closed.
Removable Cab
To remove the detachable driver's cab simply give it a tug to remove the cab completely off, which will reveal remarkable detail in the seat, steering wheel and controls.
Once removed the young farmer has unrestrictive access to the steering wheel, which they can now use to actually steer the two front wheels on the tractor.
Lights & Sounds
The battery compartment is fixed to the cabin itself, so pressing the buttons to play the sounds and make flashing noises all come from the cab.
But what a fun but noisy function this is, and only found with Big Farm tractors. And when the noise becomes a nuisance, feel free to remove the batteries any time.
Counter-Weight
What you will notice on this Big Farm Massey Ferguson 6613 tractor to similar models in the series is this counter-weight harbours much more detail and care.
And that can only mean this tractor is fully equipped to tow the heaviest implements. Well its only for show as the tractor will balance just fine without it, but sure makes for more interesting farm play.
Towing
Well there's not much in the way of matching red trailers and implements to go with this red Massey Ferguson, there's a number of 'grey' farm implements that will mix and match nicely.
That applies to the general purpose trailer, tipping trailer and even the cattle trailer. All of which will easily connect to the rear tow hitch on the tractor.
Britains
This item: Britains 43078: Big Farm Massey Ferguson 6613 Tractor
Age: 3 Years
Scale: 1:16
L28 x W21.5 x H21 cm
Weight: 848g
Britains
Age: 3 Years
Scale: 1:16
L33 x W19.5 x H21 cm
Weight: 1300g
Britains
Age: 3 Years
Scale: 1:16
L38 x W24 x H19 in
Weight: 1580g
SHOP BY THEME
SHOP BY
INFORMATION