Britains 42688: Case IH Maxxum 110 Tractor with Front Loader, 1:32 Scale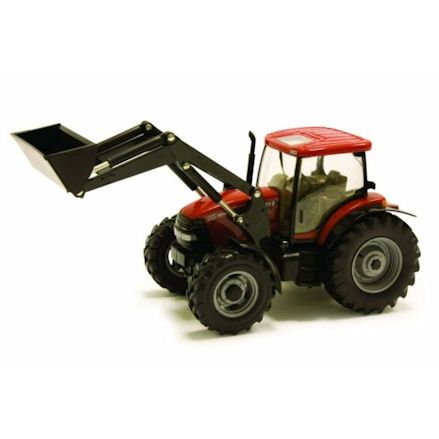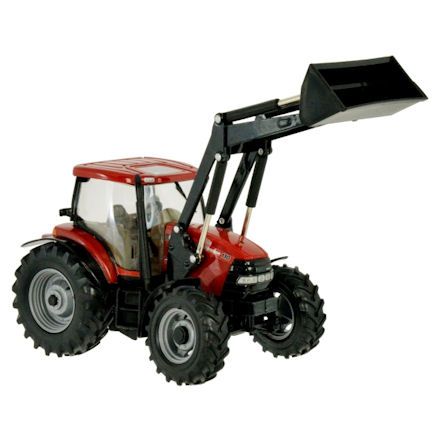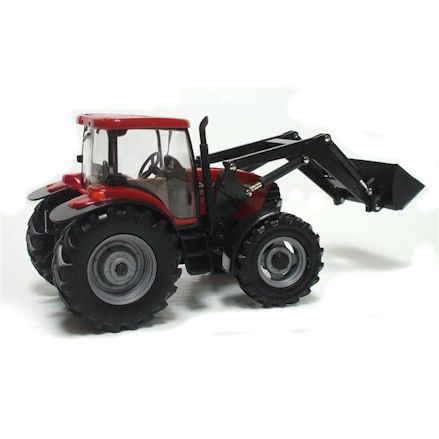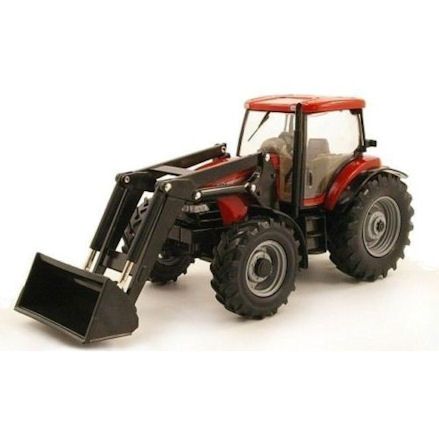 Britains 42688: Case IH Maxxum 110 Tractor with Front Loader, 1:32 Scale
Go-to Case IH if its a red tractor toy they need, then this Britains Case IH tractor is all they require thanks to a functional front loader with bucket attachment.
Brand:
Britains
Product description
Solid, die-cast metal Britains 42688 Case IH Maxxum 110 tractor with front loader in 1:32 scale, and its fitted with the usual functional free-rolling wheels, rear hitch and replica interior and exterior detail.
Tough machine that will pull most, if not all farm implements and trailers in the series, with a rear hitch that closes shut when the tow bar is hooked on.
The exterior detail is only recognised on a Case IH, helped by the design of the body, with the driver's cab taking up the most space, due to its size overwhelming the compact body.
Be aware, the driver's cab cannot be removed on this model.
If you focus on the front loader mechanism, you'll see metal links acting as hydraulics which are visible, with lowering and raising action and a tipping bucket.
With both the front loader and bucket attachment undetachable, so what you see is what you get.
The tractor features fine exterior decor in the side mirrors and exhaust with a detailed drivers cabin with the controls, seat and steering wheel clearly visible through the cab windows.
Features
Item No: 42688
Scale: 1:32
Age: 3 years and up
Officially Licensed by Case IH
Presented in window display box
Made from die-cast metal
Functional front loader with bucket
Rolling wheels, active steering
Rear tow hitch
Undetachable driver's cab
Dimensions: L19.5 x W9 x H10 cm
Weight: 499g
Manufacturer details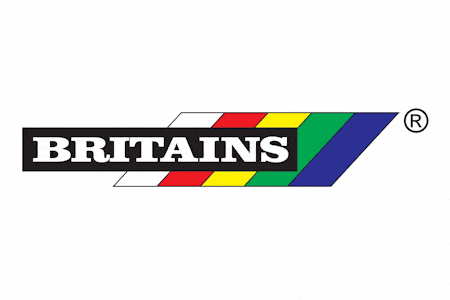 Its been almost 10 years since this model was first released, and look at it now. Still going strong and stable in the Britains farm toys 1:32 scale series. Since 2010, this Britains Case IH tractor has acted as their primary Case model, with models coming and going over the years. Therefore, if its a die-cast red toy tractor they need, you'll have a safe pair of hands.
Guide to Britains Case IH Maxxum 110 Tractor
Get to know how the front loader lowers and raises works, well simultaneously using the pivoting bucket attachment to load and offload - a manual function we must say.
Case IH Maxxum 110 Tractor
Britains Case IH Maxxum 110 tractor is a compact yet powerful machine, and in the case of a toy tractor it is equipped with replica detail and functional parts.
Take the front and rear axle, both have suspension for rough terrain, well the front wheels can be steered by hand - with deep treads helping them maneuver through wet sinking mud.
Action will mostly take part on the front thanks to the fully functional front loader with bucket, but trailers or implement can be towed using the rear tow hitch.
Working Front Loader
Multi-functional front loader with a series of links that act as hydraulics to help even this toy front loader function normally - but let's be clear, the front loader cannot be removed from the tractor.
On one hand this is ideal as the Britains Case IH tractor can be used as a standalone; on the other hand, this puts an end to accidental damage be removing/fixing on the front loader continuously.
As the lower links assist in the raising of the loader, the ones higher up help the bucket attachment function with a pivoting movement. Overall, well driving the loader on the road the loader should be up, well in a parked position the bucket should be resting on the ground.
Bucket Attachment
Fitted to the end of the functional front loader is a standard pivoting bucket attachment. What we mean by pivoting is its capable of tipping as they lower and raise the front loader.
This is not a removable - or detachable bucket - so they have to make do, but as this is a bucket there's no end to the possibility in play. Not only can this pick up sand and gravel as such, but hay bales with a bit of practice.
The pivoting action comes in to play when the front loader is lifted up, so does the bucket to stop the load falling out; likewise, when the loader is lowered the bucket rests on the ground, with it tipped over to empty load on a pile or on an awaiting trailer/lorry.
Towing Red Implements
There's something about a Britains tractors towing behind a matching farm implement or trailer, and when we say matching we do mean matching red tractor with trailer.
You're free to match up the Case IH Maxxum tractor with any trailer in 1:32 scale series, just as the farmer would pick out the implement required for the task in real life.
But in the case model tractor toys, there's just something satisfying by matching up a rectoy tractor with a red trailer; such as Britains red NC Slurry Tanker, Kuhn Cultivator or Kverneland Plough.
Britains
This item: Britains 42688: Case IH Maxxum 110 Tractor with Loader
Age: 3 Years
Scale: 1:32
L19.5 x W9 x H10 cm
Weight: 499g
Britains
Age: 3 Years
Scale: 1:32
L15 x W12 x H10 cm
Weight: 500g
Britains
Age: 3 Years
Scale: 1:32
L17.4 x W8.2 x H11 cm
Weight: 780g
SHOP BY THEME
SHOP BY
INFORMATION