Britains 40963: Jersey Cattle, 1:32 Scale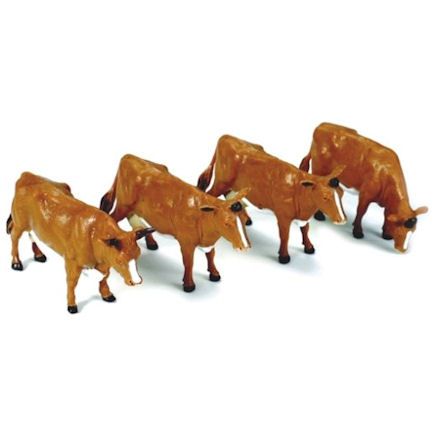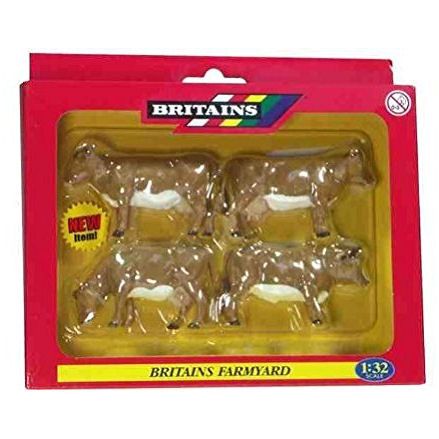 Britains 40963: Jersey Cattle, 1:32 Scale
Set of 4 Britains Jersey Cattle made in 1:32nd scale from durable plastic and hand painted in a light brown with white strips on their heads and under bully.
Brand:
Britains
Product description
This set of toy cattle consist of three cows with one grazing and a single bull that leads the pack.
Expand your dairy farm with the introduction of these Jersey toy cattle. Build up a single Jersey cow herd or add them amongst your other breeds of cows to produce healthy calves.
Jersey cows are know for their excellent milk production and a popular cattle on the farm who look the part with Britains other toy cows.
They're individually hand painted with plenty of flexibility in the palstic to prevent snapping during play.
Features
Discontinued
Item No: 40963
Scale: 1:32
Age: 3 years and up
Presented in window display box
Made from durable plastic
Includes 3 cows, 1 bull
Britains Farm Toys range
Dimensions: L10 x W1.5 x H4 cm
Weight: 200g
UPC: 0036881409632
Britains
This item: Britains 40963: Jersey Cattle, 1:32 Scale
Age: 3 Years
L10 x W1.5 x H4 cm
Weight: 200g
Britains
Age: 3 Years
L10 x W1.5 x H4 cm
Weight: 200g
Britains
Age: 3 Years
L10 x W1.5 x H4
Weight: 263g
SHOP BY THEME
SHOP BY
INFORMATION