Building site toys (young builders guide)
As you build up your building site toy collection, you may be short of ideas when it comes to remembering what is needed in terms of toy construction vehicles and accessories.
Luckily, we've compiled that much needed list for you, with what building site toys you need for replicating a realistic make-believe building site.
Whether you're building housing, roads, bridge, high rise buildings or simply maintenance work.
The following suggestions should instill a few inspiring ideas that you may never thought of to bring your building site to life.
But remember to keep your construction toys to scale - with Britains in 1:32, Siku in 1:32 and 1:87, with Bruder and Big Farm in 1:16 scale.
Secure compound, portacabin and partaloos
Wherever you setup your building site, plans are always in place where to best situate the site headquarters, in the form of a secure enclosed compound.
The designated compound sites the portacabin with the site manager, surveyors and where the builders go to clock in.
Within this secure building site yard this also forms part of the builders community with portaloos, site security with cameras and nearby parking.
These compounds could be small or big depending on the size of the building site area, but all cement silos, timber, bricks, rafters and other expensive building supplies will be stored in this enclosure to keep it safe from thieves.
These days it's hard to find a good quality toy building site compound like what we've explained above - or even toy portacabins and loos.
So you may need to get creative this time and get out in the shed and build a simple toy building site yourself.
Toy telehandlers do all the leg work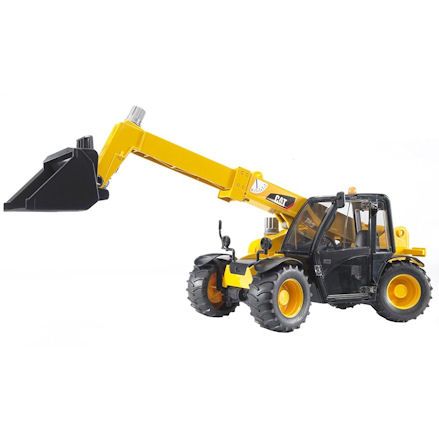 Pictured Right
-
Bruder excavator illustrates the larger type of tracked excavator that is best for loading awaiting trucks - and is a much larger model overall
.
When you think of a telehandler in real life, with the fork or bucket attachment, you may think it has limited work to do by stacking pallets.
In fact toy telehandlers can be a very versatile construction vehicle and an extra strong, giant pair of hands.
Beside the excavator or backhoe, your toy telehandler could be the second most important vehicle on the building site, and creates lots of activity, whether your stacking pallets or removing debris, toy telehandlers offer endless tasks.
Toy excavator vs. backhoe digger
On a child's mind, building sites are all about digger holes, so a toy construction vehicle with this ability is a must.
But luckily, a toy excavator or toy backhoe digger is the number one vehicle on the site - so you need it regardless.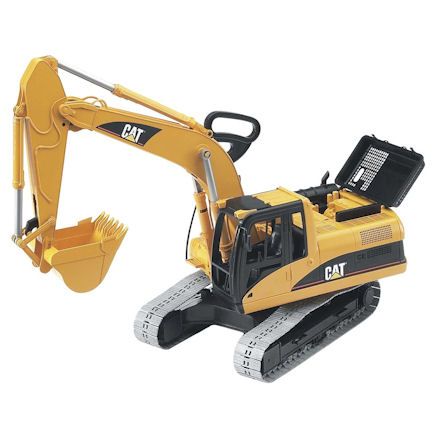 Midi or large excavators
Pictured Right
-
Bruder excavator illustrates the larger type of tracked excavator that is best for loading awaiting trucks - and is a much larger model overall
.
You do have two choices when it comes to excavators - machines that dig narrow foundations - and it really is up to you which one you prefer.
So with the excavator you have a small midi type tracked JCB that digs and piles the heap.
Whereas a big excavator has a larger reach with its arm, and is able to empty the heap directly into an awaiting open back lorry to take the spoils away.
If you go for a small midi excavator, you'll then need to invest again in vehicle to pick up the heap.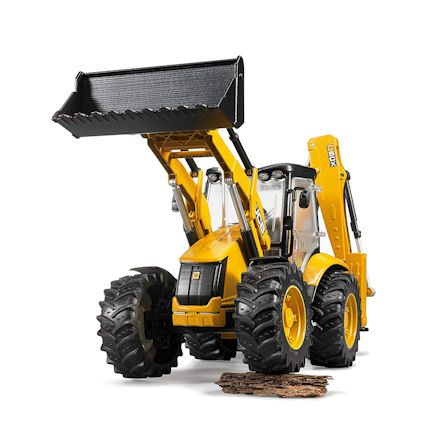 Backhoe digger for excavating and digging
Pictured Right
- Classic children's digger from Bruder, with both the rear excavator bucket and front loader - larger bucket attachment - in action, notice the stabilizers are out
.
Unlike the small or larger excavators a backhoe - known as a digger to children - can dig the holes using its rear excavator.
It can then pick it up with its front loader and bucket attachment well emptying the heap into the truck itself.
Why not use a construction vehicle that does both tasks very well in a JCB backhoe digger.
But bare in mind, excavators can be far more versatile around the building site than backhoes, as they are far more maneuverable is restricted spaces.
Loaders collect and takeaway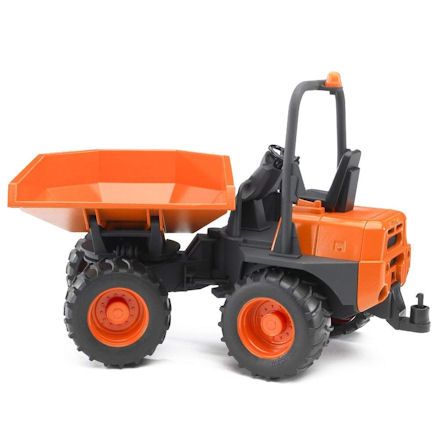 This Bruder mini loader is perfect for small building sites, as it can legally drive on the road if it needs to exit the site and enter elsewhere to dump its load
.
Loaders always have a front loader with a big bucket that scoops up mud, sand and gravel and moves it around the building site wherever the builders need it.
It is also used to pick up heap piles and empty onto awaiting tip up lorry.
In loaders, they're available as a mini dumper, articulated loader and skid steer loader, but all serve the same purpose - to scoop up waste and move it.
But if we had to recommend one, we would go for skid steer loader as they have multiple uses.
Lorry for taking away material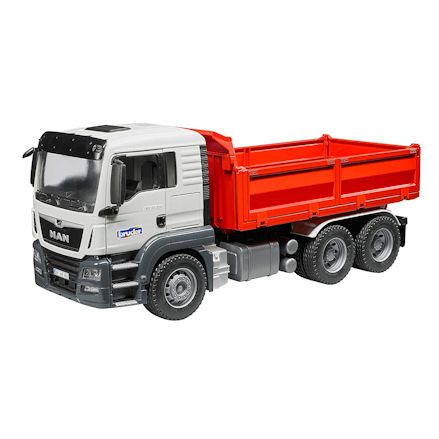 Pictured Right
- Bruder open back Scania tipping truck has an opening rear tailgate as you tip the back up to empty its load
.
An open back tipping lorry, well not an official building site vehicle, it does arrive when needed to take away all the waste material and spoils you've excavated over the course of the day - so it doesn't just pile up in one big heap.
Pick a lorry or truck that has large open back that can take away sand, mud or stones, then tipped up to automatically open the tailgate to empty the contents.
If you need a recommendation from us, then look no further than Bruder's very own construction trucks.
Cement mixer or static cement silo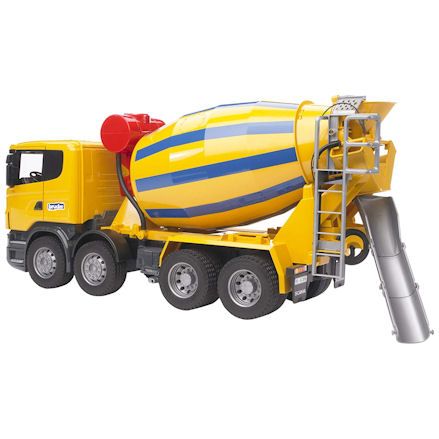 If
There's one thing Bruder does well, is releasing well made replica cement mixers, with a rotating mixer, pull out cement funnel and a whole bunch of interesting features
.
Children take a lot of joy from cement mixers, watching as the big drum spins as the mixer is on the move down the road.
Then at the building site the funnel is released and the cement pours into awaiting wheelbarrows for laying concrete.
On building sites, cement is needed all day long, so a static cement silo can be setup in the secure compound (as mentioned above) and the builders working on the site can come and collect freshly made cement whenever they need it.
Visit from a crane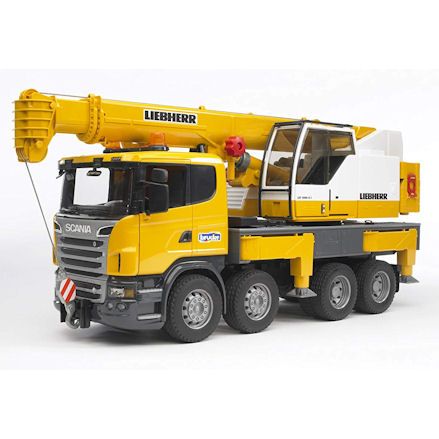 There's nothing so heavy a crane can't lift, and this Bruder Scania crane will lift anything using a lever to wind up and down the cable
.
This is how a crane comes to visit a building site: house building requires a crane lorry only when heavy rafters are needed to be lifted to the roof top, well these same cranes can be used in bridge building.
But when it comes to building high rises like skyscrapers and sporting areas, a tower crane needs to be set up for the entire building process.
As the building gets higher and supplies need lifting up, it needs to stay put for the duration of the build.
Down the line the crane may be fitted to the building as it rises.
Play bricks, pallets, railing and cones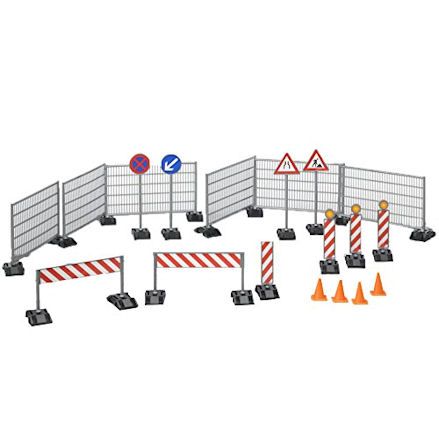 With a few road signs for warning motorists, railing for keeping out the public, cones for directing traffic, and lights and barriers for use on the site
.
With all the construction vehicles you have, nothing can increase play value more than construction accessories; namely toy house bricks, pallets, railing and traffic cones.
All these accessories go toward increasing realistic role playing.
House bricks are vital for creating a realistic building site scene, well railing are used to keep the builders - and public safe - which children will learn about, and the cones will help direct traffic away from danger areas.
Share this article: