Best toy stables (for sale in the UK)
Having over a decade of experience in children's toy stables, we've gathered enough experience to know what's in, what's out. But well trends change over the years, the need for different size toy stables becomes ever so vital.
So to make sure you can find a fitting toy stable - plastic or wooden - we have compiled a top twelve list of kids toy stables for sale in the UK for your horses.
And we've made sure there's one fitting for the following; Schleich, Bullyland, Papo, Collecta, Breyer and stables in 1:32 scale to fit in with your Britains farm toys.
So, let's delve into our top 12 list below featuring plastic and wooden stables suitable for every model horse out there.
1. Kids Globe 610544: Large Wooden Horse Stable in 1:32 Scale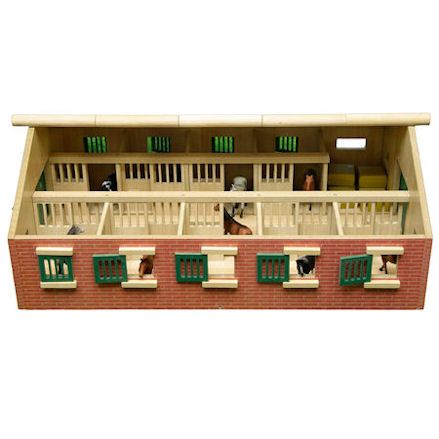 Buy it from: amazon.co.uk
Well the need for small 1:32 scale horses is decreasing, that doesn't mean they are still needed more than ever.
And thanks to Kids Globe, they've produced a lovely big stable barn for all the horses you could possibly own.
Well self assembly is required, it features nine stalls, sliding entrance door, opening windows, hinged roof and extra space for tack.
2. Schleich 42344: Horse Club Riding Centre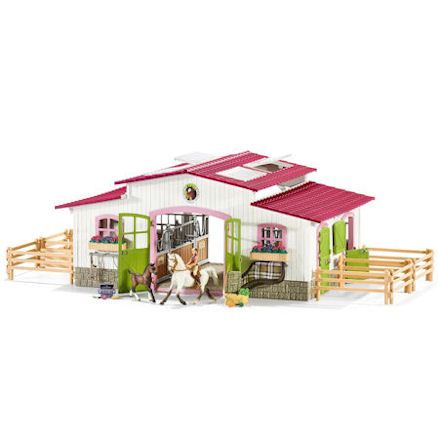 Buy it from: amazon.co.uk
Released in 2016, this stunning big Schleich horse stable barn is used with the range of Schleich horses and Papo.
Well the stable itself has 4 stalls, opening hinged entrance door with access around the back
The whole thing can be assembled into an outdoor horse riding arena with the shelter and the paddock fencing acting as enclosures.
3. Breyer 59197: Stablemates Red Stable Set in 1:32 Scale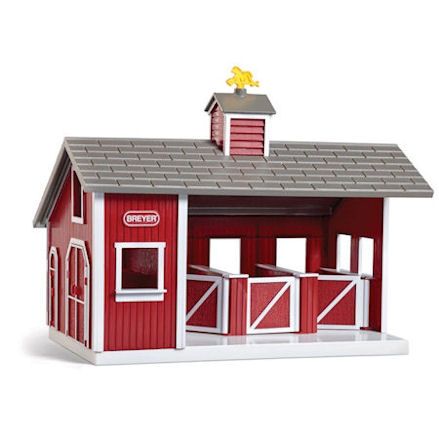 Buy it from: amazon.co.uk
This one has served Breyer Stablemates for more than ten years, and continues to house 1:32 scale horses.
The only stable in the Breyer range for their Stablemate collection, this open fronted, American style red stable has 3 stalls and hinged doors.
With an enclosed room. Complete with fencing, jumps, trough, barrels and 2 Breyer horses in 1:32 scale.
4. Melissa & Doug 13744: Take-Along Show Horse Stable Play Set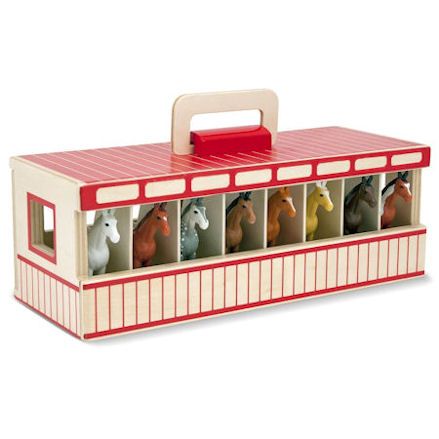 Buy it from: amazon.co.uk
Remarkable Melissa and Doug - made from plywood - wooden horse stable set, complete with eight - yes 8 - horse figures to fit in the corresponding stalls.
The 'take-along' label means you can carry the stable around using the handle, well the horses stay nice and secure in the building.
5. Melissa & Doug 13704: Fold & Go Wooden Horse Stable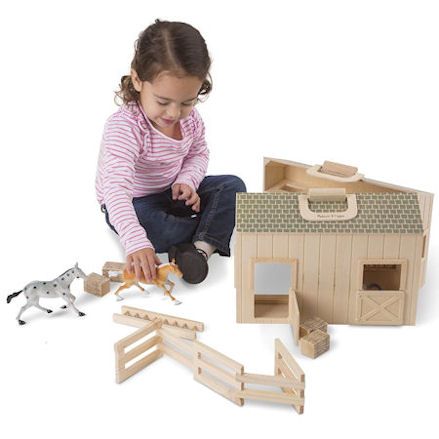 Buy it from: amazon.co.uk
This Melissa and Doug wooden stable, well it's not available with horses, you can introduce your own Schleich, Papo and Bullyland horses which are a good fit.
This fully assembled, 2-storey stable can be opened up to reveal the interior, featuring a shingled roof, hayloft, ladder, and 4 bales of hay and swinging doors.
6. Schleich 42195: Stable with Horses & Accessories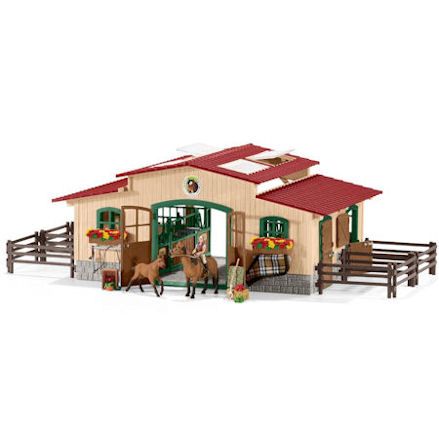 Buy it from: amazon.co.uk
Similar to Schleich (42344) Horse Club Riding Centre, but this one is in a different colour scheme, appealing to a wider audience.
It features 4 large stalls with inside and outside hinged door access with windows.
The main door can be swung open, well the back entrance is wide open - the whole thing can be converted to an outdoor riding arena.
7. Bullyland 80797: Horse Stable Play Set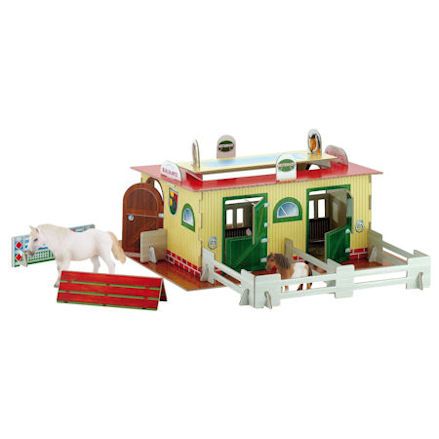 Buy it from: amazon.co.uk
If you have a toy horse range available then you should have a stable to pair them up.
And this is actually what Bullyland have done, and well it comes with 2 horse figures, you can still use this stable with more Bullyland horses, Papo and Schleich.
This self-assembly stable has 2 stalls with doors, jumps and slot together fencing.
8. Breyer 699: Classic Country Stable with Wash Stall in 1:12 Scale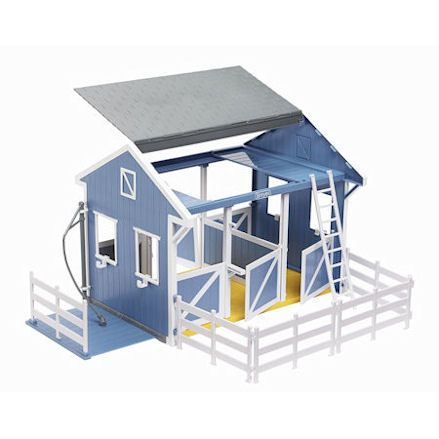 Buy it from: amazon.co.uk
Quite possibly one of only a few toy stable available on the market in big scale.
And so should Breyer make one available, because they are the only major producer of 1:12 scale horses, and they have been doing it well for years.
This big plastic, self-assembly stable has 2 stalls and slide out washing area, hinged roof to reveal loft and ladder and paddock fencing.
9. Breyer 306: Traditional Wood Stable in 1:9 Scale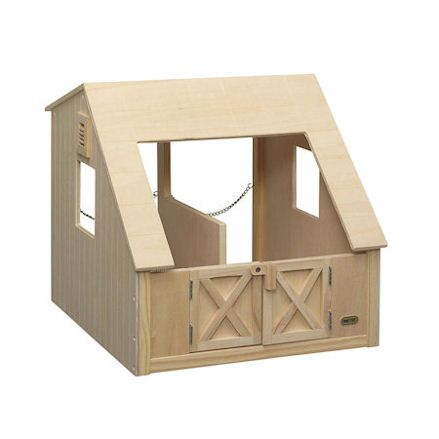 Buy it from: amazon.co.uk
Because the Breyer Traditional range is so big - 1:9 scale - you can expect this made from wood stable to be big too, but thankfully it requires assembly out of the box.
You can play with the horses at the front with an opening stall door, with a large open area at the back for access inside with chain link.
Made from plywood with fixings.
10. Brushwood Toys BT8300: The Stable Yard, 1:32 Scale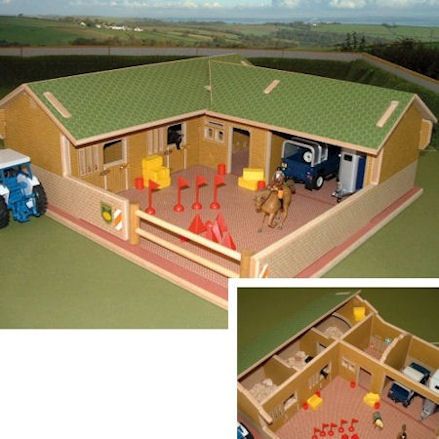 Buy it from: amazon.co.uk
Brushwood have made this stunning classic stable yard in 1:32 scale with Britains farm toys in mind, well it suites Breyer Stablemates too.
The enclosed yard features 2 stalls, 2 spare room, and an open garage for parking the Land Rover and horse trailer.
This heavy, slot-together stable is made from MDF with printed detail.
11. Micki 10215200: Stable with Paddock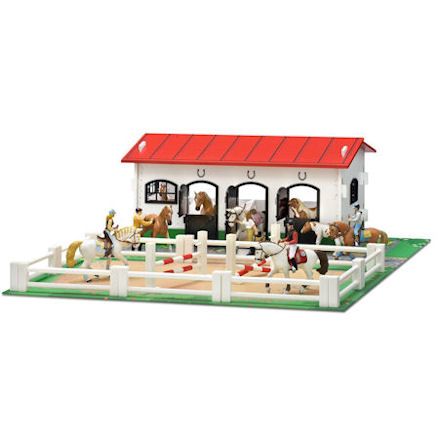 Buy it from: amazon.co.uk
Micki are completely focused on building great children's buildings, including this colourful stable with paddock.
And whilst the the figures shown do not come with this stable, you can buy these Papo horses, including Bullyland and Schleich, separately that make a match.
This is a Self assembly stable with hard baseboard, stalls, fencing and jumps.
12. Papo 60102: The Stable Activity Play Set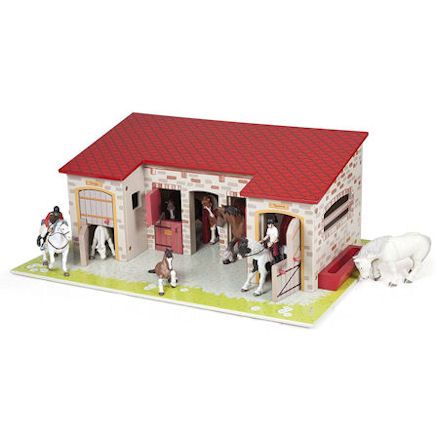 Buy it from: amazon.co.uk
Hugely attractive, colourful Papo stable set, made from MDF with printed details. It has up to 3 stalls with extra rooms and a base to sit it all on.
Assembly is required with fixings to keep it secure, well the roof can be removed for unrestricted access inside.
Use it for Papo, but will match Bullyland and Schleich horses with ease.
Share this article: