Pretty pink tractor toys
Well the news is all about gender specific toys and whether this option should be taken off the table, the fact of the matter is parents are still in the need of pink farm toys aimed at girls - as a present or a toy requested especially.
And well there are a handful of largely pink tractor toys available in the ride on tractor sector, we can tell you now you'll have to dig a little deeper to discover a pink toy tractor and farm toys in this unique colour, which is rarely found in real life farming.
Toy makers have taken gender into consideration when manufacturing tractor toys for girls, but as it happens there are a number of real life tractors in a pink too, which is made in the brand colours and not specially aimed at a target market.
I'm sure the farmer's don't care so much what colour their tractor is, just as long as it does the job - but for little girls and boys, colour is everything.
Anyway, we've tried our best to track down a bunch of pink farm toys for you to look over - but they should all catch your eye in this beautiful girly colour.
You still need to keep on top of things when buying pink toy tractors as you would any toy; such as scale, functions and features.
In case of the ride-on tractors, be sure to learn before you buy by visiting our ride-on pedal tractor guide - from steering, pedals, weight to recommended child age and size.
GREEN TOYS: Pink Tractor & Trailer Set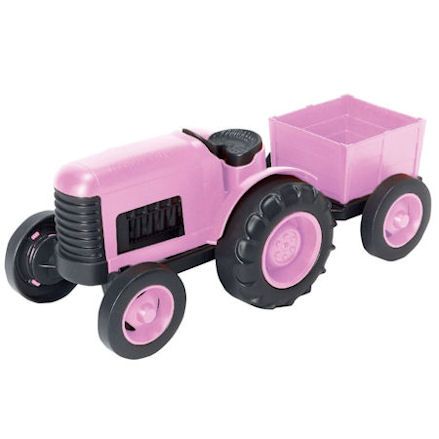 Where to buy: Amazon.co.uk
An ideal my first pink toy tractor for ages 1 years and up, with a tractor and detachable trailer included. Encourage imaginative role playing targeted for girls in farm play, made to be played outdoors and in.
The chunky, rounded corners is designed for little hands to grasp and play, but if the trailer gets in the way this can be taken away, but she will learn to use the trailer herself by attaching it to the tractor hitch to pop random items in.
Easy to clean and dishwasher safe, measures H120mm x L290MM X D137mm.
PLASTO: Pink Tractor with Front Loader in Display Box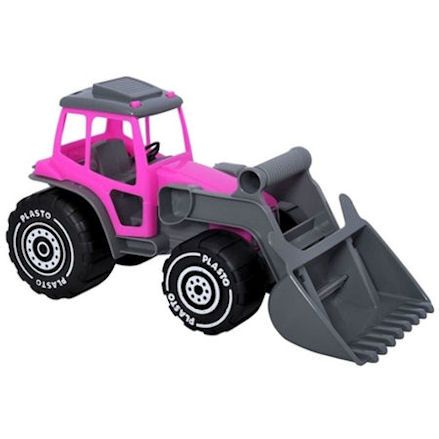 Where to buy: Amazon.co.uk
Fantastic, made from durable plastic chunky toy tractor with a functional front loader that goes up and down, and presented in an open window box.
Features four big free rolling wheels and is suitable for play in the garden or sandpit.
To insure complete safety in the toy, this Plasto tractor is free from electronics so does not need batteries, and can get wet and muddy.
Recommended for 3 years and up and suitable in purple - measures 48cm in height.
Pink ride-on tractors
When compiling this pink ride on tractor list, it wasn't easy as these bright, bold, girly pedal tractors are not so easy to find for sale within the UK, and international.
As you would expect, all major ride-on tractor manufacturers are included, with Rolly toys and Falk providing a small number of children's pink ride on tractors between them.
But what you should know about these pink pedal tractors is that they are all available in their original colour, only they've been converted into pink to attract little girls.
So what can you expect; all but one tractor are pedal driving without a chain, from 1½ to 3 years and up, feature a horn, trailer or front loader - or as a stand alone vehicle.
FALK: Princess Ride-on Trac with Trailer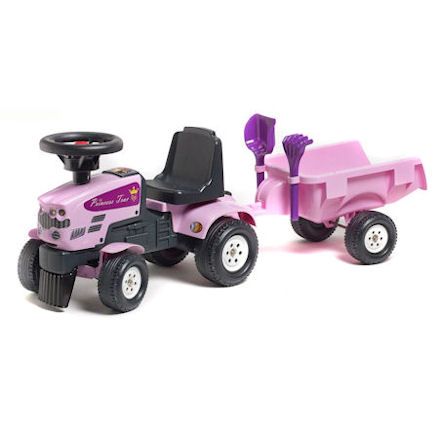 Where to buy: Amazon.co.uk

Our first pink tractor toy comes in this Falk baby princess tractor and trailer set. And because it doesn't have any peddles, it's a scoop along tractor, aimed at toddlers 1 to 3 years.
Extended play comes from a detachable trailer so the tractor can be used with or without it, and simple enough for the toddler to fix it to the hitch themselves
It has wide chunky stable wheels they should find easy to push down on, and a nicely positioned easy grip steering wheel complete with a squeaky horn.
An interesting extra that comes with this Falk princesss trac is a small rake and shovel - useful for loading up the trailer with sand or stones.
ROLLY TOYS: Carabella Ride-on Mini Trac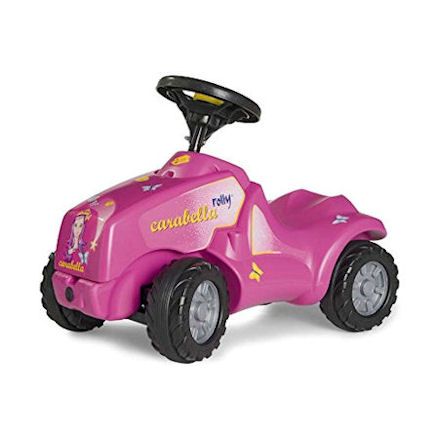 Where to buy: Amazon.co.uk
This Rolly Carabella mini scoop along - or foot to floor ride on tractor - is for toddlers aged 18 months to 3 years.
With absent peddles, this allow them to scoot along the ground without the need to peddle, providing more balance and a safer option.
It still makes for a fun ride, well keeping the young ones active, featuring an opening bonnet, a steering wheel, an integral squeaky horn - which you just might regret - and then there's the knee indentation to scoot along with ease.
FALK: Princess Ride-on Trac tractor and trailer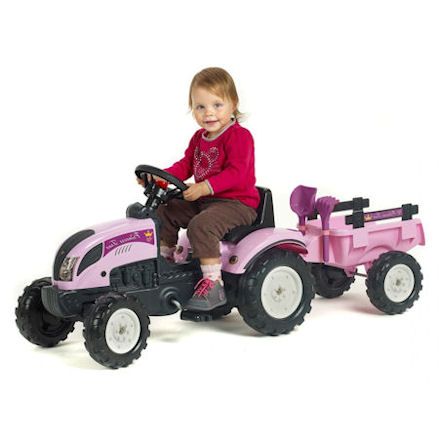 Where to buy: Amazon.co.uk
Big, chunky pink princess ride on tractor with matching detachable trailer, so it can be used with or without it. Well aimed at girls aged 24 months to 4 years, it's quite big and a little heavy, but after several weeks of play it gets much easier to ride.
Just like riding a bike again, takes some getting used to but you build up strength and fitness and gets easier over time.
This Falk tractor is powered by two grip peddles, tread tires which should help riding through mud and grass, a squeaky horn with a comfortable steering wheel, well the trailer holds a girly rake and shovel set.
ROLLY TOYS: Ride-on Tractor & Trailer with Front Loader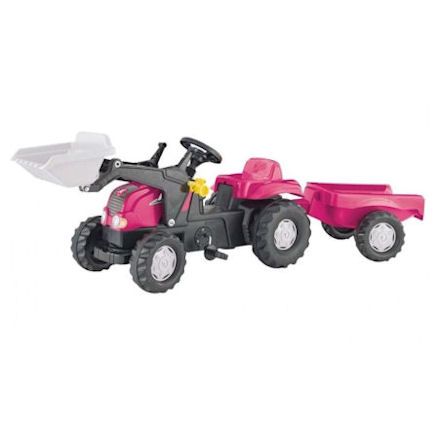 Where to buy: Amazon.co.uk
Very sturdy, hard wearing Rolly pink ride-on tractor and trailer set with front loader, with assembly required out of the box with instructions included - but these may be hard to follow based on parent reviews.
Once you have the wheels, seat and peddles attached, you now have a tractor suitable for kids 30 months and up, although younger and smaller toddlers may find it hard to reach the peddles.
But when they are ready, you'll have yourself a chunky tractor and detachable trailer set that's pleasing on the eye, for both the parents and little girls.
The front loader is controlled manually reaching over the bonnet using there hand.
ROLLY TOYS - Pink Tractor with Trailer & Loader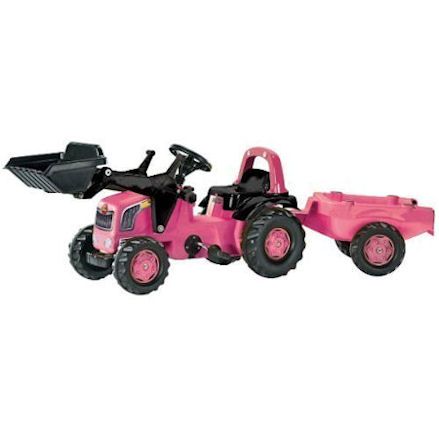 Where to buy: Amazon.co.uk
Beautiful pink pedal powered Rolly ride-on tractor with back support and comfortable seat, which should go towards keeping them upright as they peddle
Bonus feature of this Rolly ride on tractor comes in the functional front loader.
This loader is manual, meaning they have to reach over to move up up and down, well pivoting the bucket to pick up sand or mud.
It comes with a detachable open trailer, meaning it can be used with or without it, but should be easy for them to attached by themselves if need be.
ROLLY TOYS - Pink Tractor with Loader & Trailer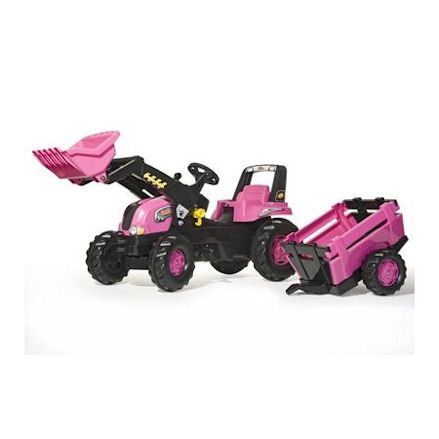 Where to buy: Amazon.co.uk
Big and mighty pink pedal tractor with front loader and detachable trailer.
This is a big and heavy tractor with assembly required (like most) and requires a strong 3 year old to manage the weight.
If bought prematurely before they are age and size appropriate, not to worry, get them going on it and they will soon build up enough strength to ride it with ease.
Reason for a strong and taller kid needed for this model is due to the functional manual front loader and the big and bulky tractor - where the trailer (and what ever they are hauling) adds to the weight - before the kid sits on it.
ROLLY TOYS - Pink X-Trac XL Ride on Pedal Tractor & Loader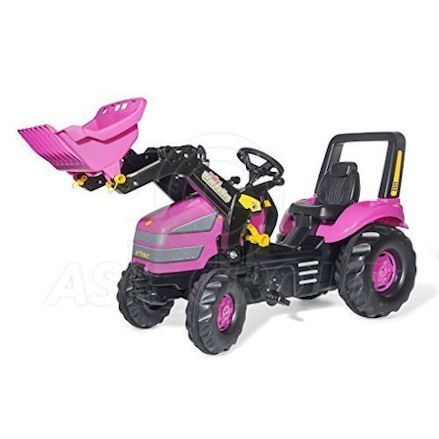 Where to buy: Amazon.co.uk
Stunning chunky pink pedal powered Rolly x-trac ride on tractor with manual use front loader - and a rear hitch if a trailer is required later.
Compared to similar pedal tractors in a smaller size, they use of the front loader is a little heavier, but shouldn't discourage them, but rather built up there strength over time.
The seat is comfortable but has an essential back support to remind them to lean back up if they insist on leaning back..
The pedaling area provides enough space for the knees and prevents them banging there legs, but as a pedal tractor, unlike a bike they have to always keep pedaling.
Pink farm toys in the USA
We have covered the available pink tractor toys available in the UK above, we are now moving on to pink toys available in the US.
With a market up to six times larger than the UK, this puts a higher demand on unique toys for the US market.
So well the choice is very limited here, in the United States the selection of pink toys are huge, so we've compiled a list of just come of the toys you can buy in the States.
Please Note: The following toys are available from the USA almost exclusively, so check international shipping details before committing to a desired product.
ERLT: Big Farm Case IH Tractor with Front Loader - 1:16 Scale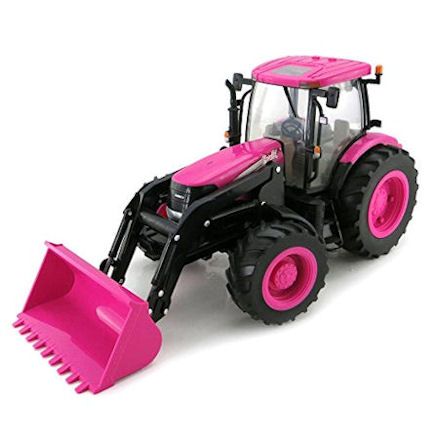 Where to buy: Amazon USA (international delivery permitted)
Specially modified pink (usually red) Big Farm Case IH toy tractor in 1:16th scale, made from durable plastic with rubberised tires, functioning front loader with up and down action and pivoting bucket, with steering wheels and rear hitch.
This model is built for the US market and designed to target girls, but if it looks familiar we have this range here in the UK under the Britains Big Farm range
Currently this one is only an US import, so would be very expensive to buy here right now, and is suitable for 3 years and up.
ERTL: New Holland T8.410 Tractor - 1:64 Scale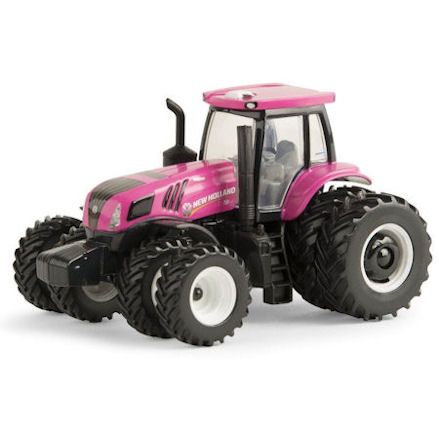 Where to buy: Amazon USA (international delivery permitted)
Under the ERTL label, this pink New Holland tractor is again targeted to US customers, which is notable from the big dual wheels for large scale farming, and it's comes in 1/64 scale, which is the number one scale toy size in America.
Well made in die-cast metal, the wheels are free rolling and has a rear hitch for towing trailers and implements - which are surprisingly available here in the UK.
This converted to pink New Holland tractor would usually be blue. Ages 3 years and up.
ERTL: Case IH Steiger Panther III PTA-310 Tractor - 1:64 Scale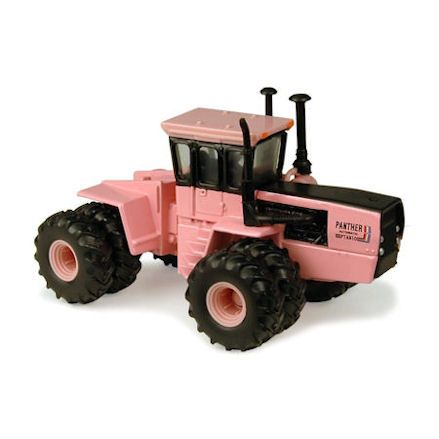 Where to buy: Amazon USA (international delivery permitted)
We mentioned previously that there are real life tractors that are made in (pale) pink, and here is a perfect example.
This big American style 'Steiger Panther' tractors stand out as the only models produced in pink.
Again, targeted towards America, you'll have to buy this from abroad, but bare in mind this is only 1/64 scale model and due to the small size, it may not be worth your time and to expensive buying in from the US.
Well suitable for 3 years and up, age 2 and up would be find under parental guidance.
ERTL: Case IH Pink Magnum 340 Tractor - 1:64 Scale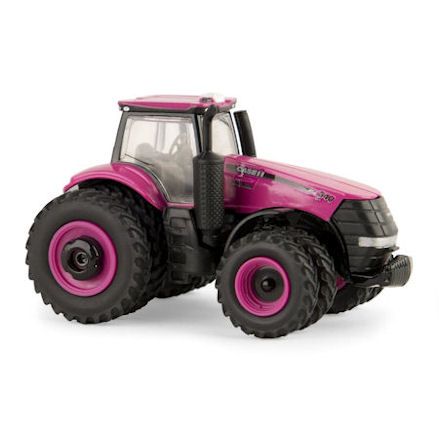 Where to buy: Amazon USA (international delivery permitted)
Attractive, pink converted from red Case IH Magnum tractor in 1/64 scale tractor, with four dual free rolling wheels, front weight, exhaust, rear hitch and amazing exterior decor and interior detail in the driver cabin.
You can buy ERTL toys in the UK, but this pink one won't be available for you as you'll have to track it down across the Atlantic.
I think more needs to be done for us here in the UK as the Americans seems to get all the good stuff. For 3 years and up.
ERTL: Monster Treads 8" 4 Wheel Drive Steiger Tractor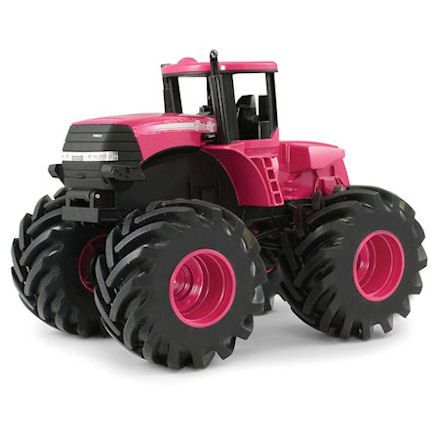 Where to buy: Amazon USA (international delivery permitted)
Talk about pink tractor toys as a prefect example of ones available in all shapes and sizes.
And this one is made for outdoor play in the mud or sand. Has a fun engine shaking action with sounds - so this model requires batteries.
You won't find this model exists in real life - obviously - but it makes for a fun toy tractor with great big wheels to help push it along.
Manufacturers recommended age is 36 months to 6 years.
ERTL: Oliver 1950T Tractor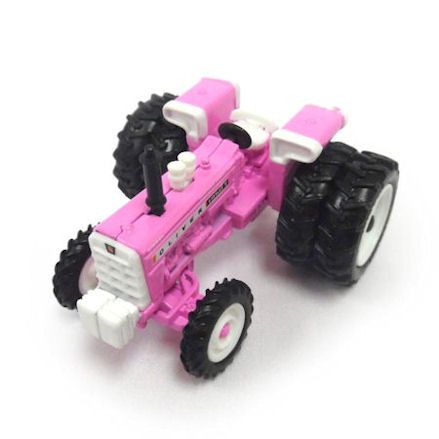 Where to buy: Amazon USA (international delivery permitted)
Finally, in our pink tractors to show you comes this American classic Oliver tractor with an open cabin.
This open driver's cabin won't work so well here in the UK, due to the bad weather, but if your farming in the American mid-west, you'll see it everywhere.
But once again, this is a US exclusive, and you'll have to track it down and import it from the USA, despite it made from ERTL, which are owned by TOMY.
But if you are trying to recreate a US farm scene, then it's a must - For ages 3 years.
Share this article: