Siku 1858: JCB Fastrac with Half-Traxx Bimet Trailer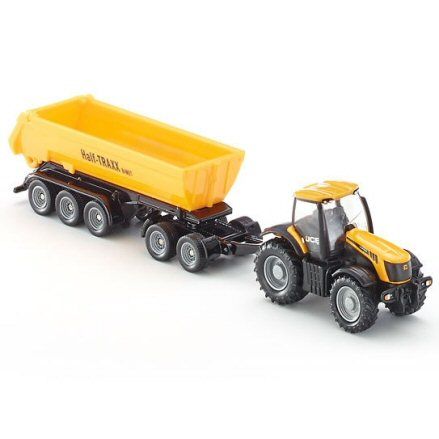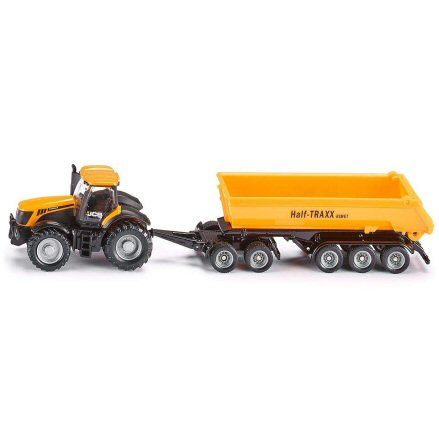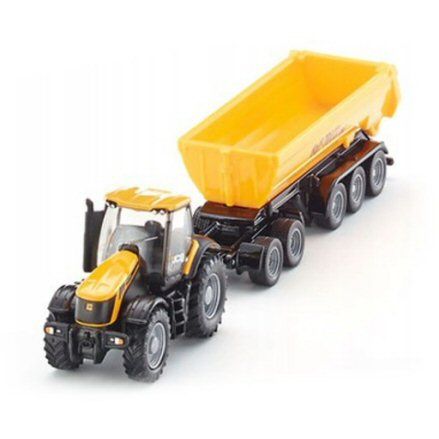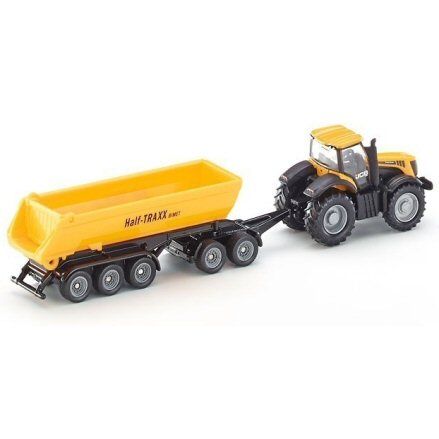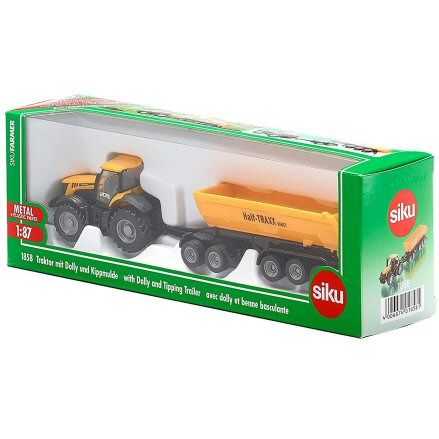 Siku 1858: JCB Fastrac with Half-Traxx Bimet Trailer
Take to high speed farming using a Siku Fastrac: detachable cab and tow hitch; triple-axle Half-Traxx trailer features tipping action and opening tailgate.
Brand:
Siku
Product description
If you're using this JCB Fastrac on the farm then you are driving at a greater speed; its a Fastrac that can do this with high speeds on the road, with a mix of speed and power for farming needs.
Miniature model Fastrac in 1:87 scale still has the functionality expected in the Super series; rolling wheels, detachable cab and a compatible rear tow hitch.
Rear tow hitch cannot tow Half-Traxx trailer without use of a dolly connecting tractor to trailer. Bimet trailer has a tipping action, support arms for when tractor is stationary and an opening rear tailgate.
Well dolly connects to tow hitch of JCB, the hole on dolly connects to the trailer in tow. So in all there's the tractor, dolly, then the trailer. Dolly also has a hinged drawbar to allow for accessibility.
Well JCB has equal size free rolling wheels, so does the twin-axle dolly, along with the tripe-axle trailer. And that's vital has the trailer can take on a big load of rubble or potatoes from the farm.
Features
Item No: 1858
Scale: 1:87
Age: 3 years and up
Presented in window display box
Made from die-cast metal
Tipping trailer with tailgate
Twin-axle dolly
Free rolling wheels
Compatible rear hitch
Dimensions: L19 x W3.7 x H4 cm
Weight: 149g
Tractor: L6.2 x W3.7 x H4 - Trailer: L13 x W3.4 x H3.6
Manufacturer details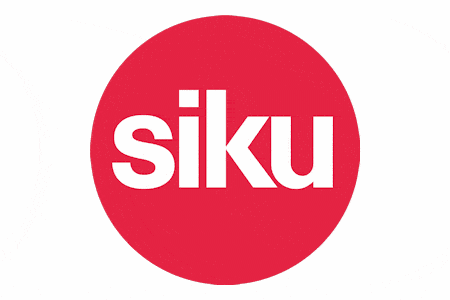 Released in early 2010, this JCB tractor/trailer set is focused around towing heavy loads, at a greater speed due to the use of the Fastrac. Well it has the power, it cannot take the load, so therefore there's a dolly trailer acting as a bridge between tractor/trailer. Siku have made it a perfect match in colour, but there's room for using other implements if needed.
Guide to Siku JCB Fastrac with Half-Traxx Trailer
If you know what this JCB Fastrac with highly functional Half-Traxx trailer can do, then the young farmer will get the most out of the tractor/trailer set without needing to find out by themselves.
JCB Fastrac 8250
Never has there been a miniature JCB Fastrac in 1:87 scale like this one before; or any JCB vehicle come to think of it. Which is just as well, as we can now do farming work at a faster pace.
Replica scale JCB Fastrac 8250 tractor is designed for moving at a faster speed, well doing all that a regular tractor can do. It features rolling wheels, detachable cab and tow hitch for towing Half-Traxx.
Triple-Axle Half-Traxx Bimet Trailer
Siku Half-Traxx Bimet trailer in 1:87 scale is used for hauling big, heavy loads of rubble or potatoes. It has a tipping up action, support arms, opening rear tailgate and a connection for the trailer dolly.
Sitting on a triple-axle due to the heavy weight that can be loaded in, which is further supported with use of a twin-axle dolly trailer. Only with use of a dolly can you tow the trailer using tractor rear to hitch.
Twin-Axle Trailer Dolly
Take a good look at the Fastrac rear tow hitch and a better look at the drawbar of the Half-Traxx trailer. You may notice that its not possible to connect tractor to trailer without use of dolly in the middle.
Dollies are used to connect big farm trailers like this to the tow hitch of a tractor that is not otherwise compatible - it also serves to support the extra weight, well allowing a greater maneuverability.
Drawbar to Tow Hitch
In order to drag the tipping trailer in tow, the dolly acts as a middle-man, there to connect tractor to trailer which would not be possible without.
If not using the Half-Traxx trailer included, do-away with the dolly and trailer to make way for any trailer or implement in the Super series.
Siku
This item: Siku 1858: JCB Fastrac, Trailer
Age: 3 Years
Scale: 1:87
L19 x W3.7 x H4 cm
Weight: 149g
Siku
Age: 3 Years
Scale: 1:32
L21.6 x W13.1 x H10.2 cm
Weight: 558g
Siku
Age: 3 Years
Scale: 1:32
L17 x W9.5 x H10.5 cm
Weight: 839g
SHOP BY THEME
SHOP BY
INFORMATION