Bruder 03191: Case IH Optum 300 CVX Tractor with Front Loader, 1:16 Scale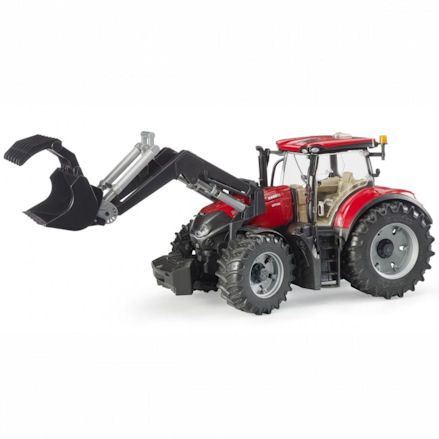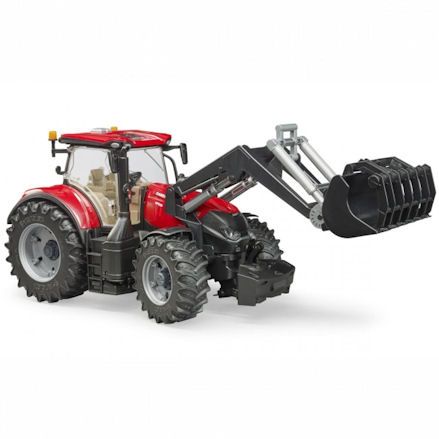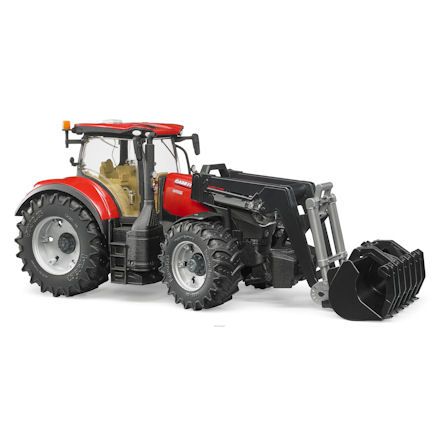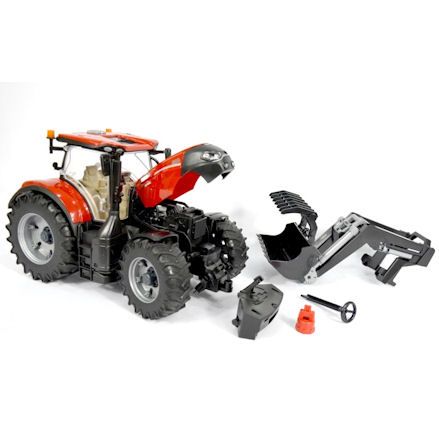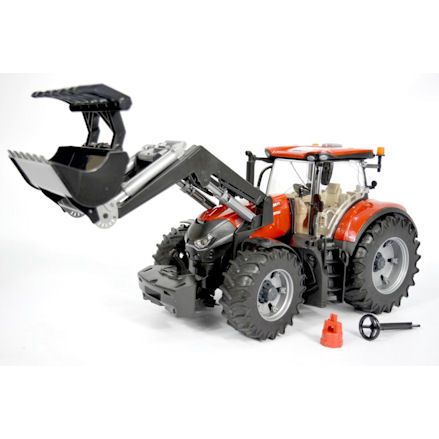 Bruder 03191: Case IH Optum 300 CVX Tractor with Front Loader, 1:16 Scale
Make it a Bruder Case IH Optum for all your farming needs in 1:16 scale; with wheels that steer, front mount, tow hitch, opening cab doors and bonnet.
Brand:
Bruder
Product description
An attached functional front loader makes for a lot of extended play value, but removing it still makes for a multi-functional big toy tractor.
Well the red body section is made from tough, durable plastic, so is the clear windows and chassis; well the free rolling, steerable wheels are made with a softer rubberised material.
Controlling the tractor happens via an extended steering wheel that extends through the cab roof hatch before locking onto the centre positioned steering wheel inside the cab.
They can access the interior from both opening doors so they can assist with the rod connecting to the steering wheel, or why not secure a toy farm figure to the seat.
The bruder 03191 Case IH Optum 300 CVX tractor is made more interesting with use of a lowering and raising front loader, with pivoting bucket/grabber attachment - which is all detachable.
Finally the front mount has a removable counter-weight connected, well the rear tow hitch is height-adjustable to tow all implements and trailers in the series.
Features
Item No: 03191
Scale: 1:16
Age: 4 years and up
Presented in open display box
Made from durable plastic
Steerable, removable wheels
Front mount with tow hitch
Opening cab doors, bonnet
Functional front loader
Pivoting attachment
Bruder Agriculture range
Dimensions: L44.5 x W18 x H20.5 cm
Weight: 2100g
Manufacturer details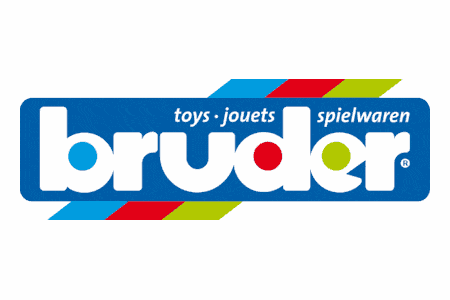 At least one tractor from every manufacturer in the series has one model with a front loader attached, now its this 2017 released Bruder Case IH Optum 300 CVX, so they can get going right from the start with no attachment needed later. Well both tractor and front loader are available separately, they have made it more affordable when bought together.
Guide to Bruder Case IH Optum 300 CVX Tractor with Front Loader
Understanding how to use the features on this big toy tractor is a learning process, well the functional steering wheels with opening cab doors and bonnet are among them.
Case IH Optum 300 CVX Tractor
All that is good with Bruder Case IH tractors are included with this model, with a big driver's cab to the opening bonnet with the Case IH insignia.
Accurately betrayed original exterior decor is fixed to the outside of the cab, along with the side mirrors, imitation cab lights, headlights and orange hazard light.
Work the Front Loader
Simple but with a lot of opportunities in play, and well it has a lowering and raising action, this is used in conjunction with the attachment to pick up and offload.
Slot it on or off from behind the front-axle section, the up/down movement is controlled by hand, well a grey lever, well part of the loader, helps pivot the attachment.
Multi-Purpose Attachment
Designed to be able to scoop and grab hold of all types of loads; from dry grass to hay, sticks and tree branches - but that mostly relates to grabbing hold of it with the grabber section.
They're still able to scoop up sand, mud, soil to gravel and stones with use of the lower bucket section, and where the grabber is not useful here, it can be removed.
Get in the Cabin
You need access to the interior of the driver's cab because this is where you can secure a farming figure to the seat, or reach in and control the steering wheel.
Steps lead up to cab doors on both sides, so this can only mean we can open both cab doors on hinges with help from a door knob.
All IMPLEMENT Compatible
Made from tough, solid plastic with a twisting action leveler is the height-adjustable rear tow hitch which is compatible with the entire Bruder Professional series.
They're free to just slip up any trailer or implement they want, but in doing so they can make it realistic by bringing the adjustable hitch under the trailer tow bar, before raising it through the tow bar hoop.
Removable Weight
With a slide on action before securing it by a clip-on hook, the counter-weight is used to balance the tractor with a trailer or implement in tow, better still it can stay put even when the front loader is in use.
The front coupling is regularly fixed with a counter-weight, but they're sure to get more from its by using a front mountable Bruder implement.
Bruder
This item: Bruder 03191: Case IH Optum 300 CVX Tractor with Front Loader
Age: 4 Years
Scale: 1:16
L44.5 x W18 x H20.5 cm
Weight: 2100g
Bruder
Age: 4 Years
Scale: 1:16
L38.5 x W17.5 x H16.5 cm
Weight: 676g
Bruder
Age: 4 Years
Scale: 1:16
L44.5 x W18 x H20.5 cm
Weight: 1900g
SHOP BY THEME
SHOP BY
INFORMATION