Bruder 03040: Fendt 936 Vario Tractor, 1:16 Scale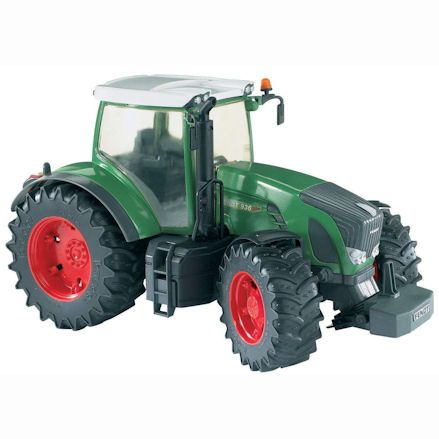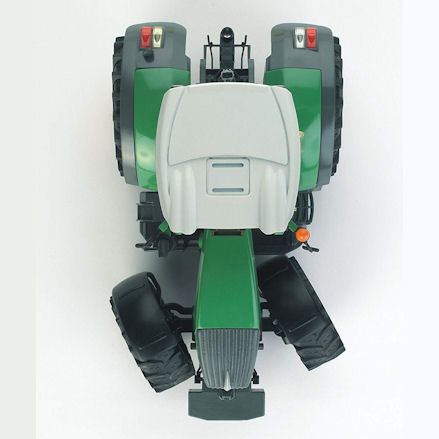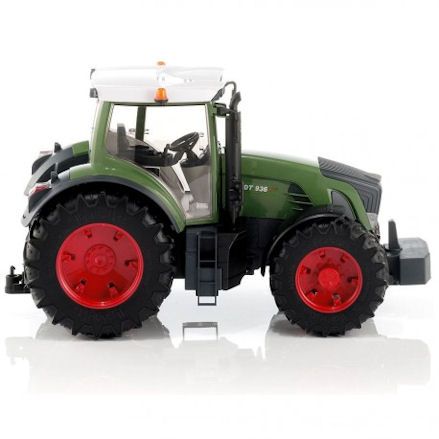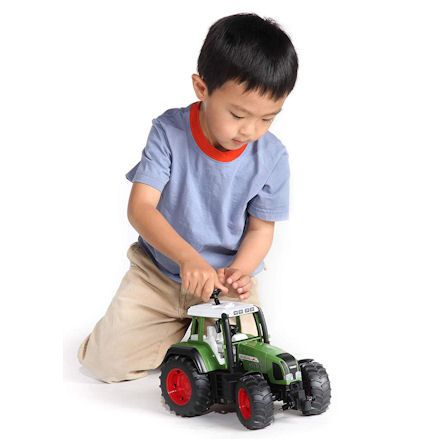 Bruder 03040: Fendt 936 Vario Tractor, 1:16 Scale
If its large scale farming you require, then make it a reliable large series Fendt tractor with steerable wheels, front mount, opening cab doors and bonnet.
Brand:
Bruder
Product description
Standalone model does not mean reduced functionality, nor does it mean you need a front loader or a trailer and implement to tow to make the most of it.
Imagine this large scale Bruder 03040 Fendt 936 Vario tractor is fully equipped to role over rough terrain and over wet mud, with a loader or trailer only holding it back.
And where space saving is of importance, this tractor maneuvers on a tight radius well a trailer would take up to much room, as a loader would get caught up often.
We would suggest accessories later, but for now it would be ideal to learn how to drive a large Bruder tractor without anything else restricting play.
Take the steering rod out of its compartment underneath the tractor, thread through the cab roof hatch and steer the tractor as it would maneuver in real life.
This requires going straight, left and right, well going forwards/backwards to take tighter corners.
If you're going for a standalone model tractor only, we only ask you bring in a Bruder figure to work on the engine under the opening bonnet, or insert him or her inside the cab well sitting on the seat.
Features
Item No: 03040
Scale: 1:16
Age: 4 years and up
Presented in open display box
Made from durable plastic
Opening cab doors, bonnet
Steering wheels
Front mount, tow hitch
Bruder Agriculture range
Dimensions: L38.5 x W19 x H22 cm
Weight: 1100g
Manufacturer details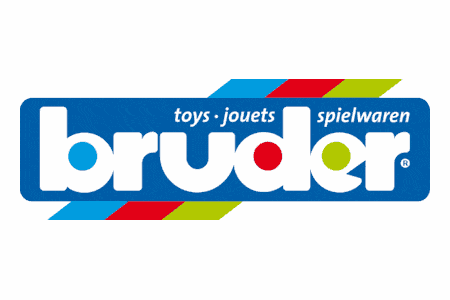 Wow, this standalone Fendt tractor was first released into the large series range in 2006, but incredibly still holds firm with its functional parts and detail. Big, chunky with a wide body makes pushing and pulling this particular model simple with a perfect balance from a standing position. Intended to be used as a standalone, but the options there to fit extras later.
Guide to Bruder Fendt 936 Vario Tractor
More to this standalone tractor than meets the eye, as our guide goes over all its top features, from a functional tow hitch and front mount, to steering wheels and opening cab doors and bonnet.
Fendt 936 Vario Tractor
Brilliant, large scale replica Fendt 936 Vario tractor with no trailer in tow or front loader attached, so from here in out, they can retrofit the tractor any way they see fit.
Make sure it fits the Fendt model with red wheel rims for dual tyres, or haul a matching green trailer out of the range.
Steering Wheels
Steer the front-axle from a standing position, so well the child leans over to push the tractor forwards or backwards, the wheels are controlled via the steering rod extended through the cab roof hatch.
Not limited to the steering rod mind, in fact well they're closer to the ground on there knees or sitting, they're free to control the wheels by hand, or reach into the cab to control the steering wheel.
Free Rolling Wheels
Free rolling wheels offer unrestricted play well fiction powered would otherwise hold them back, with this model they only have to push forwards or reverse backwards.
All four wheels are made from rubberised tyres with the Fendt red rims, and are all supported with a real working suspension that makes going over rough terrain more comfortable and hardly noticeable.
Open Cab Doors or Bonnet
Standalone model tractor is crying out for interesting features that would tie them over until a front loader or implement is added, so for now make do with the opening cab doors or bonnet.
This valuable feature offers the chance to play mechanic well working on the engine under the bonnet, or why not open the can doors to control the steering wheel or insert the figure on the seat.
Front Mount
Detachable front weight serves its purpose when you're towing a trailer. It will distribute the weight from the back to the front to stop the tractor tipping, well keeping all wheels on the ground.
Imitation only and not functional, but can be removed once you've brought in a Bruder front mountable implement to connect to the front coupling.
Height-Adjustable Hitch
Finding the level of the trailer or implement is vital for a smooth operation when towing. Its only when they've hooked up the trailer, they can raise the height-adjustable tow hitch ever so slightly.
On the plus side it means this large series tractor can pull small trailers that are usually reserved for a compact tractor, so there's no compatible issues here.
Bruder
This item: Bruder 03040: Fendt 936 Vario Tractor, 1:16 Scale
Age: 4 Years
Scale: 1:16
L38.5 x W19 x H22 cm
Weight: 1100g
Bruder
Age: 4 Years
Scale: 1:16
L51 x W18 x H23 cm
Weight: 1300g
Bruder
Age: 4 Years
Scale: 1:16
L45.6 x W19.8 x H22.5 cm
Weight: 1600g
SHOP BY THEME
SHOP BY
INFORMATION