Britains 42715: Cattle Feeder Set, 1:32 Scale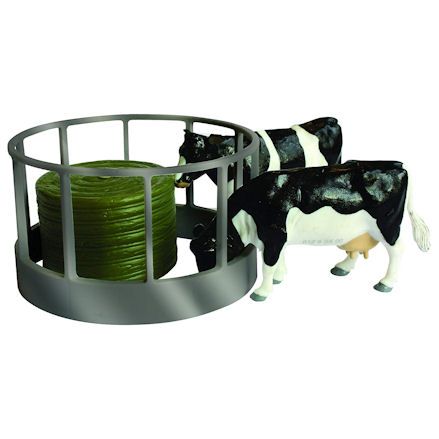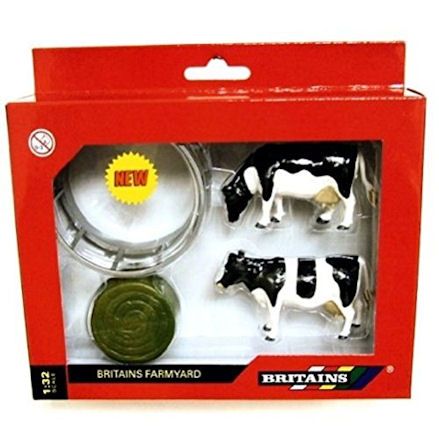 Britains 42715: Cattle Feeder Set, 1:32 Scale
Britains Cattle Feeders set consists of 2 Friesian cows in grazing positions in 1:32 scale. The cow set comes with a metal effect feeder with a round bale.
Brand:
Britains
Product description
The set comes with a round silage bale that fits into the round cattle feeder.
This toy cattle feeder set has lots of uses whether you place it in the livestock building, cattle yard or on the cow field, your cattle can eat in luxury from this classic piece of farm equipment.
Its designed to allow cattle to gather leaving plenty of space between them, the bars are spaced evenly with just enough room for the cattle to pop their heads through to chew on the silage.
Fully compatible with Britains cattle range but not recommended with use on other types of animals.
Features
Discontinued
Item No: 42715
Scale: 1:32
Age: 3 years and up
Presented in window display box
Made from durable plastic
Includes 2 cows, 1 feed trough, round green bale
Britains Farm Toys range
Dimensions: L20 x W18 x H5.6 cm
Weight: 200g
Britains
This item: Britains 42715: Cattle Feeder Set, 1:32 Scale
Age: 3 Years
L20 x W18 x H5.6 cm
Weight: 200g
Britains
Age: 3 Years
L10 x W1.5 x H4 cm
Weight: 200g
Britains
Age: 3 Years
L10 x W1.5 x H4 cm
Weight: 590g
SHOP BY THEME
SHOP BY
INFORMATION