Bruder vs Big Farm
We take an in-depth look how well Bruder and Britains Big Farm measure up against each other, and which brand offers the best features among their 1:16 scale tractors.
Sit a Bruder and Britains Big Farm tractor side-by-side and there will be little difference between them both.
They're the same size, measured in 1:16th scale, and replicated on real life toy tractor models from manufacturers such as John Deere, Case IH and New Holland.
But as we take a closer look you'll find there's little difference between the brands as we discover which of the two rivals come out top.
This comparison will assist you in making the best decision when buying a 1:16th scale tractor from Bruder or Britains own Big Farm selection.
View our chart below to see how the two compare in features with a simple tick (yes) or cross (no) structure.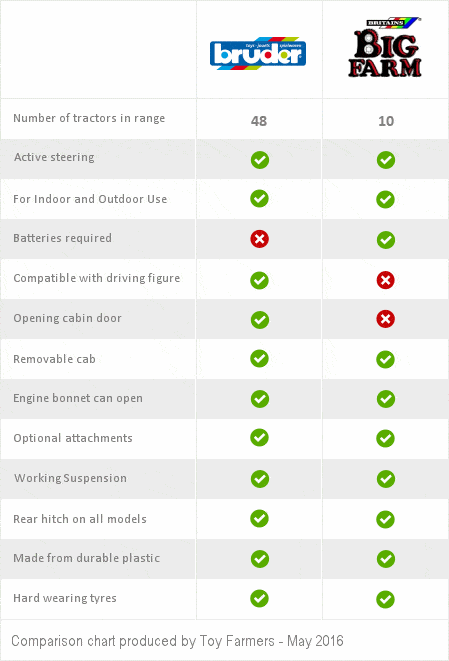 Comparison chart feature breakdown
Number of tractors in range: The number given only relates to the approximate number of tractors in the range at the time the chart was published - on 6th May 2016
Active steering: All tractors can be steered with the front two wheels, Big Farm tractors can be steered by hand, Bruder can be controlled manually, and with a steering rod
For indoor and outdoor use: All tractors can be used indoors, but outdoor use will shorten the models life span with a chance of water reaching the Big Farm electronic circuits
Batteries required: Bruder does not need batteries but Big Farm can be used with or without the batteries that come already installed
Compatible with driving figure: Bruder bworld figures sit in the driver's seat, Big Farm does not have a compatible figure
Opening cabin door: Relates to the tractor driver's cabin door coming with an opening and closing feature - well Bruder's doors open like the real thing - Britains Big farm does not
Removable cab: Simply the driver's whole cabin can be removed from the body of the tractor - just to add a little more play value when replicating repairs in the workshop
Engine bonnet can open: As above, only the engine detail is visible and replicates access for pretend tractor repair
Optional attachments: Big Farm only has one or two suitable front loaders, whereas Bruder tractors come with dozens of matching attachments like front loaders and weights
Working suspension: As standard on all model tractors to assist in tackling the bumps around the house or rough terrain out in the garden
Rear hitch on all models: Bruder and Big Farm tractors all come with a rear hitch suitable for their own range of trailers and implements
Made from durable plastic: Main material used on the body and internal structure of all tractors
Hard wearing tyres: Rubberised tyres with a deep tread to help roll over a wet, muddy farms
Share this article: