Bin lorry toys (for rubbish collection days)
It's bin day so time to get the wheelie bins and black bags on the kerb before the toy bin lorry comes to collect.
Bin lorries attract kids to the window due to the sheer power of lifting up wheelie bins, with the rubbish pulled and crushed into back into the refuse container.
And with toy bin lorries, it can be reenacted in children's play. Similarily, toy recycling trucks work just the same, with near identical features and design, so don't confuse the two when selecing a bin lorry and not a recycling truck.
And just like the real life machine, you can expect replica scale lorries and trucks, with rolling wheels, functioning wheelie bin emptying action, well you can play around with real 'friendly' rubbish - like shredded paper and cardboard.
Bringing you these bin lorry toys are Bruder with their big 1:16th scale who dominate the list, to Siku in 1:50 and toys targeted toward younger kids with Lego.
Bruder 03560: Scania R-Series Garbage Truck, 1:16 Scale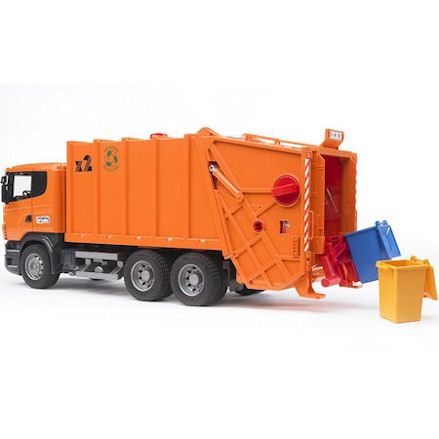 Buy it from: amazon.co.uk
Similar to what you would expect to see on our streets, this Bruder dustbin lorry has a rotating wheel mechanism which enables loading and unloading process from the rear, well lifting the entire back opens up to the main refuse container.
Bruder 02761: MAN Side Loading Garbage Truck, 1:16 Scale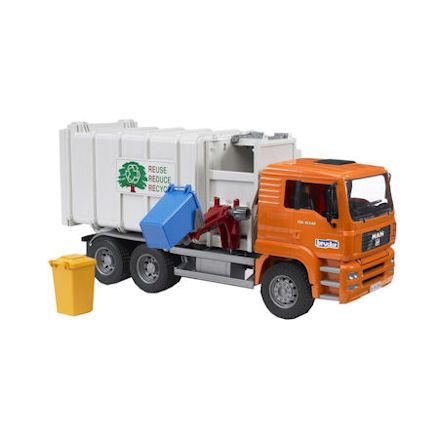 Buy it from: amazon.co.uk
Bruder side loading MAN rubbish truck that can be used for both refuse collection and recycling - your choice.
This vehicles rear can be opened and has a tilting up action to empty content - with free rolling wheels, steering wheels and two wheelie bins.
Britains 43057: Big Works Iveco Rubbish Lorry, 1:16 Scale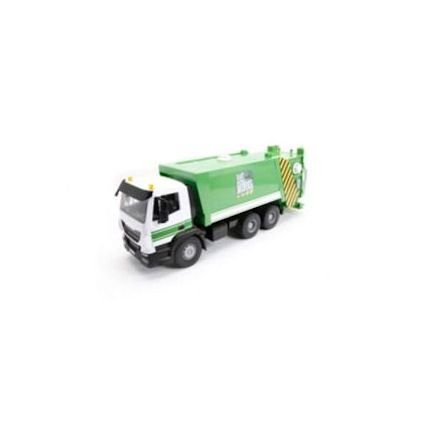 Buy it from: amazon.co.uk
Britain 'or TOMYs' try at a big scale 1:16 rubbish lorry, but from the outside it's quite a nice model, replicated to ones used today.
This toy rubbish lorry is rear loading with dustbin included, lifting up rear door, rolling wheels and driver's cabin doors open.
Bruder 02753: MAN Garbage Truck, 1:16 Scale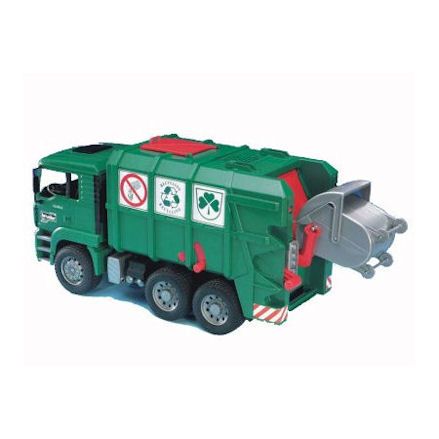 Buy it from: amazon.co.uk
Rear loading Bruder MAN bin truck in 1:16 scale but made to collect industrial waste, as you can tell from the big waste bin which is also included.
As with all Bruder vehicles, the refuse collection part is functional, has free rolling wheels and steering.
Bruder 02762: MAN TGA Rear Loading Garbage Truck, 1:16 Scale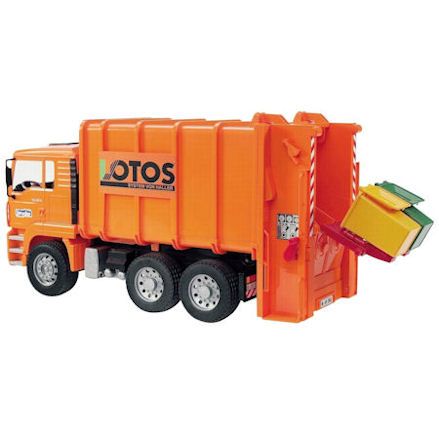 Buy it from: amazon.co.uk
Brilliant Bruder rear twin loading rubbish truck with a lever for pouring in waste, well a visible mechanism winds the rubbish into the container.
This can then be accessed with an opening rear tailgate and a tilting action to empty waste at the landfill.
Bruder 02812: MACK Granite Garbage Truck, 1:16 Scale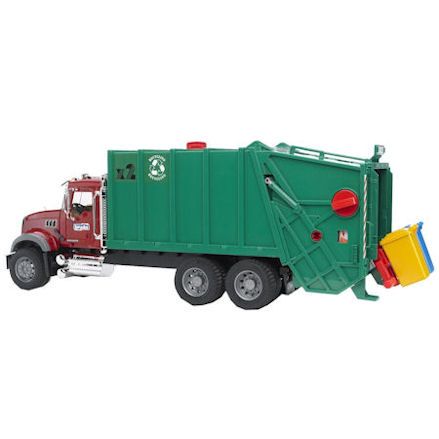 Buy it from: amazon.co.uk
Last but not least comes this stunning 'American style' MACK garbage truck with it's distinctive front driver's cabin and long bonnet.
Use a side leaver to lift up wheelie bins from the rear with an opening back to empty content from the waste container.
Siku 2938: Refuse Truck, 1:50 Scale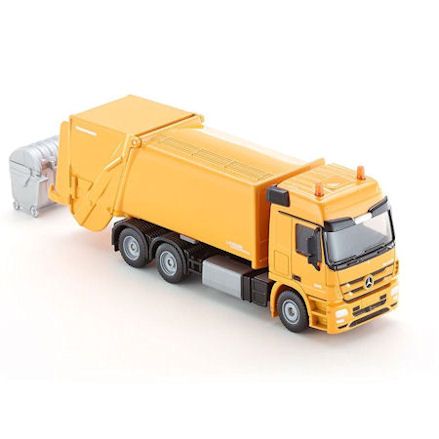 Buy it from: amazon.co.uk
Finally, we have much smaller die-cast toy refuse truck that is suitable for small toy car collections, but it's still a 1:50 scale so is still to big with car sets in matchbox sizes.
But it's still a lovely replica model for play.
LEGO 60118: Garbage Truck Playset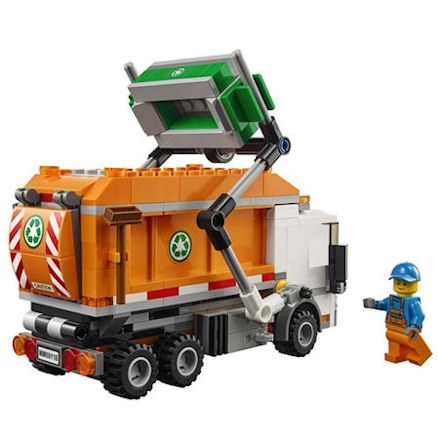 Buy it from: amazon.co.uk
Once you've managed to put this 248 piece LEGO garbage lorry playset together you'll end up with an American industrial truck with front loading action complete with a big commercial waste bin - includes figures, wheelie bin, refuse and accessories.
Lena 2166: Large Rubbish Truck, Orange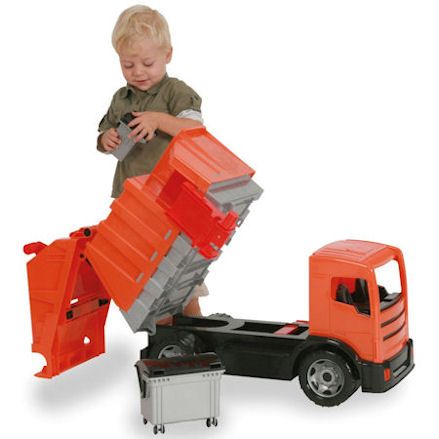 Buy it from: amazon.co.uk
Absolutely enormous Lena orange rubbish truck, standing as high as a sitting down toddler next to it.
So when investing in this large vehicle, make sure you have the space. Rear loading, opening back with tilting action - wheelie bin included.
Bruder 20002: ROADMAX Garbage Truck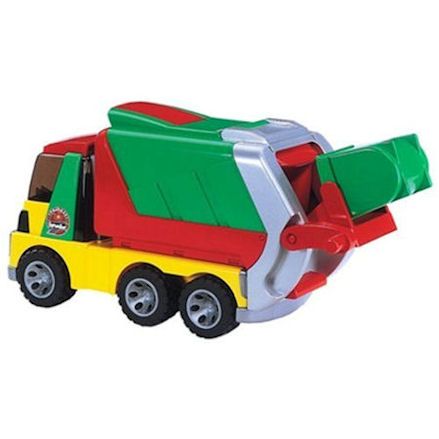 Buy it from: amazon.co.uk
Delightful Bruder Roadmax garbage truck aimed at kids from 2 years and up, thanks to it's chunky, rounded corner edges.
Made in sturdy plastic, not only does the rear loading work but the transparent driver's cab can be opened from above.
Share this article: