Best red toy fire engines
Explore fire engine toys from around the world, with primarily British and American red fire engine trucks, equipped with ladders, hoses, lights and sounds.
Well we present a top fourteen recommended toy fire engines to you, bare in mind we are looking to expand your options across all popular brands, big and small, plastic and wooden.
This will ensure you have the option to pick from the best what you are looking for, well exploring more options.
American or British Models
When seeking out red toy fire engines within the UK, you'll have an option of classic British fire engines with the large back with big metal pull-up doors, driver's cabin and ladder.
But if it's American fire trucks you seek, we are not in short supply below with plenty of models available baring the US fire department markings.
Ladders
Most model fire trucks featured have a ladder in some shape or form.
Look carefully with models that boost an extendable, rotating base ladder platform, to models with basic removable ladders to non at all, but offer no purpose but only detail.
Lights & Sounds
Half of our featured fire trucks below have real working lights and sounds, well the lights flash blue, the sound noise is a siren.
But you can be sure the blue lights feature, whether they are functional or not.
Look at for Bruder fire engines, all the models come with detachable lights and sounds module - remember, lights and sounds require batteries.
Putting out fire with water
Again, half of the fire engine we have featured have some sort of functioning water hose.
But mainly they are controlled by emptying water into a tank, for the water to flow you need to locate the lever that you pump for the hose to function.
Now you have some idea what to look out for, take a look at best toy fire engines listed below, or you decide for yourself.
1. Bruder 3590: Scania R-Series Fire Engine with Ladder - 1:16 Scale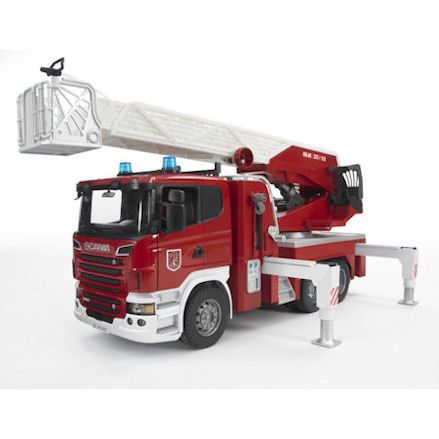 Buy it from: amazon.co.uk
Big vehicles, mean big features and this Bruder fire engine has it all.
It come with a large extendable ladder with a platform on the end, real working water tank and pump with fire hose, lights and sounds module and active steering.
2. Playmobil 5362: City Action Ladder Unit with Lights and Sound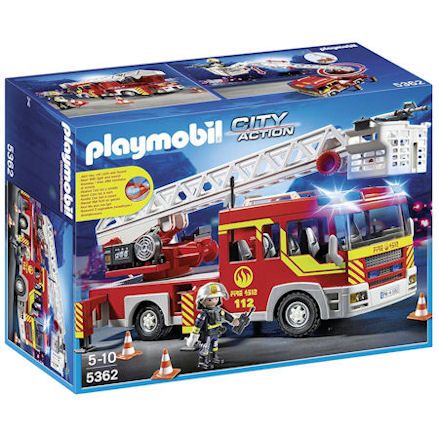 Buy it from: amazon.co.uk
Playmobil 'City Action' fire engine with extendable ladder with a rotation platform so you can reach where ever you can - well it balances on four stabilisers.
Emergency rescue play is extended thanks to the fireman and cones and a removable driver's cabin roof for access inside - and flashing lights and sounds.
3. Siku 1841: Fire Engine - 1:87 Scale
Buy it from: amazon.co.uk
You know those little matchbox cars we had as kids, well this Siku fire engine is suitable for all those little cars and matches up well in size - a miniature 1:87 scale.
It has pull out ladder with platform and a rotating base for spinning the ladder around.
4. Richmond Toys: Volvo Fire Engine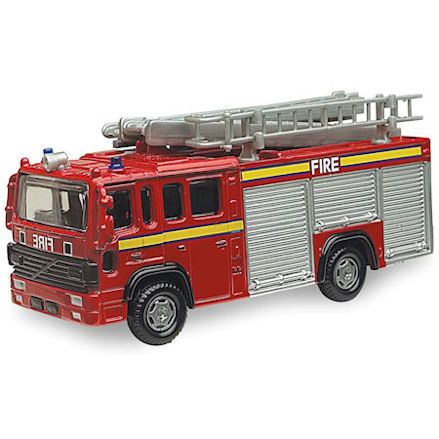 Buy it from: amazon.co.uk
Same as above in terms of size and purpose, this British style Volvo Fire Engine has a detachable ladder, free rolling wheels and is 12 cm in length.
You can use this fire engine toy along with the kids small matchbox cars.
5. Bruder 02821: Mack Granite Fire Engine - 1:16 Scale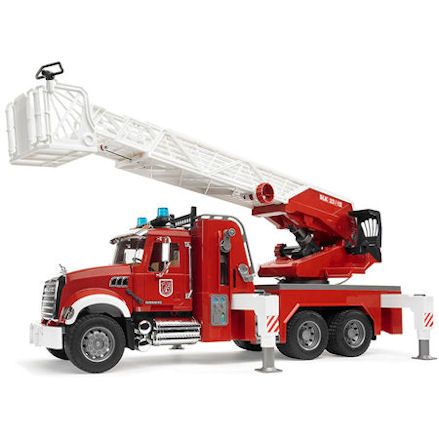 Buy it from: amazon.co.uk
American MACK fire truck design in a stunning red, complete with huge extendable ladder with platform on the end, a rotating base and four stabilisers, working pump and hose, steering, opening bonnet with lights and sound module.
6. Playmobil 5363: City Action Fire Engine with Lights and Sound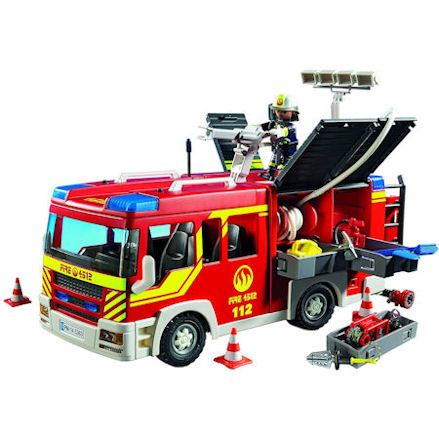 Buy it from: amazon.co.uk
British and European style Playmobil 'City Action' fire engine with flashing lights and siren sounds.
Comes with lots of accessories that are packed away in the fire engine itself along with a fireman figure to take control of the lorry.
7. Bruder 02771: MAN Fire Engine with Slewing Ladder - 1:16 Scale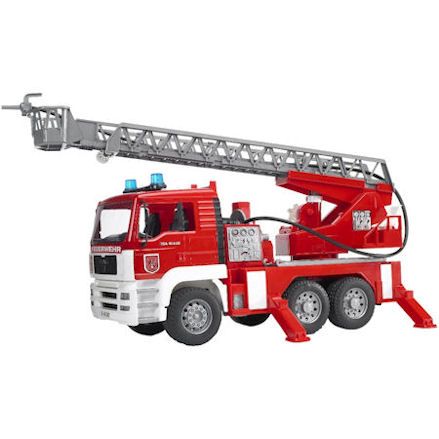 Buy it from: amazon.co.uk
Early 2000's release Bruder MAN fire engine with slewing ladder that extends out and twists on the base.
Its equipped with real steering, working water pump action hose and a blue lights and sounds module when rushing to emergencies.
8. HTi: Teamsterz Light and Sound Fire Engine - 1:43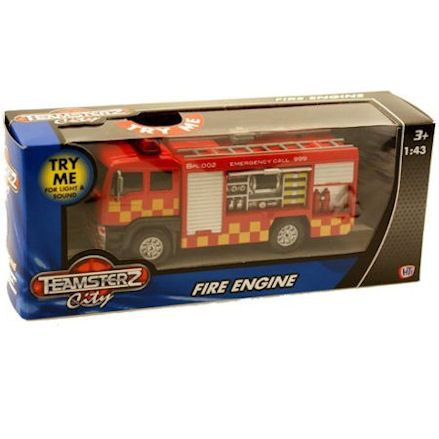 Buy it from: amazon.co.uk
Lovely stand along medium size toy fire engine with lights and sounds. Cheaper option model but packed with plenty of features and detail.
This Teamsterz City branded fire engine is made in 1:43, that's a little smaller then 1:32 scale if you understand the lingo.
9. LEGO City 60002: Fire Truck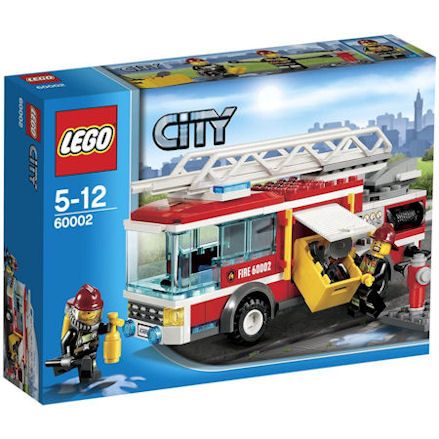 Buy it from: amazon.co.uk
You'll have to build this bad boy from out of the box, but once built you'll have yourself a lovely Lego fire truck that comes with accessories, two fireman figures with hose and an extracting ladder for reaching fires high up.
10. Bruder 02770: MAN Fire Engine Crane Truck - 1:16 Scale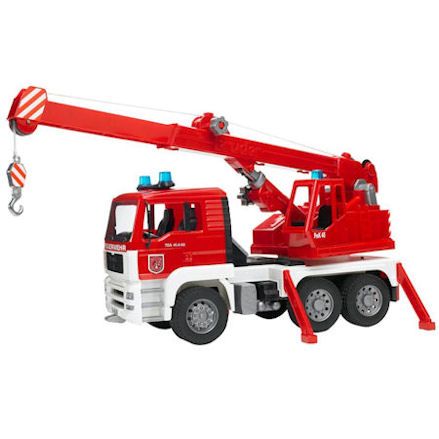 Buy it from: amazon.co.uk
Again release in the early 2000's, bare in mind this Bruder truck is not so much a fire engine, but a fire crane for assisting the fire service with rubble and items that get in the way of the scene of the fire or rescue.
Comes with functioning crane and rotating base, steering and a lights and sounds detachable module.
11. Siku 2106: Fire & Rescue Engine with Ladder - 1:50 Scale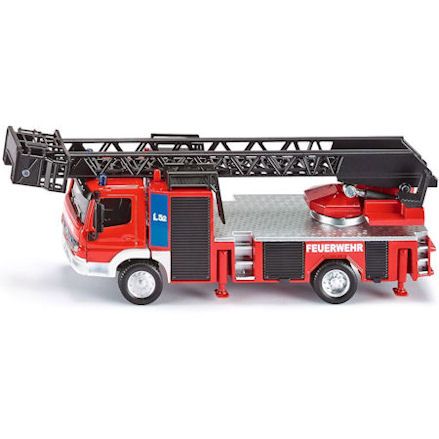 Buy it from: amazon.co.uk
Similar to the Siku model explained above, only this more expense mid-size fire and rescue engine is made in 1:50 scale to work with the Siku range.
Well made in die-cast metal, the ladder extends and the base rotates.
12. Dickie Toys: Fire Dept. Truck, 98 Rescue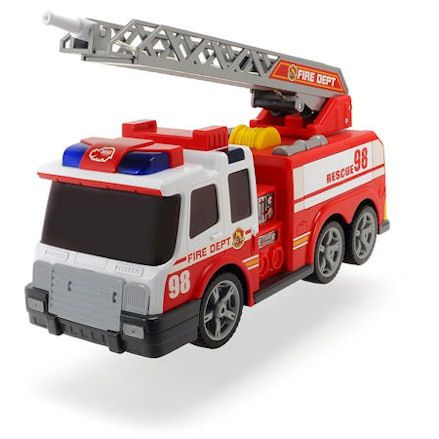 Buy it from: amazon.co.uk
When you're in need of a toy vehicle of any industry, you can always rely on Dickie Toys to be there.
This American style Fire Department '98 Rescue' truck has free rolling wheels, functioning ladder and a water pump hose - with working lights and sounds.
13. Le Toy Van: Fire Engine Set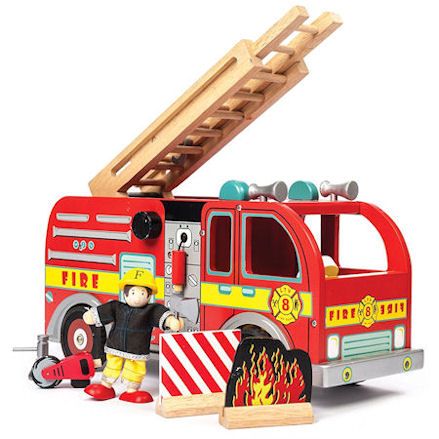 Buy it from: amazon.co.uk
To extend your fire engine options, unlike the vehicles above comes this made-from-wood Le Toy Van fire engine set.
Well the ladder is functional and the wheels rotate, extend play with extra accessories and a soft touch fireman.
14. ToyZe Fire Squad with Water Pump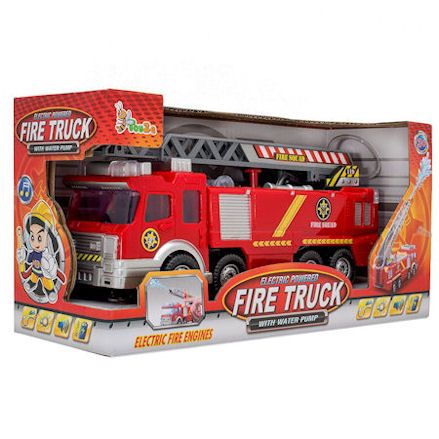 Buy it from: amazon.co.uk
Well battery operated, they are not needed to operate this fire truck at full capacity.
But if you do you can blare the lights and sounds and use the working water pump that shoots out of the hose on the extendable ladder - batteries not included.
Share this article: