Top 10 toy farm sets for sale in UK 2016
We've compiled a top 10 list of the UK's most widely available wooden toy farm sets for sale online complete with prices and seller names.
There are wooden toy farm sets available today for just about every range of toy figures going, whether they are made exclusively for the toy makers own range, or as a farm set manufactured to accompany a popular range of farm toys currently on the market. Unlike timeless farm sets for kids made generations ago, the big companies have taken over the UK section so there are very few sets that will not be recognised as they once were. You may not be able to pass down a toy farm you once owned as a kid, or even the one granddad made in the shed, but you should be able to pick out a favourite.
You'll find Brushwood Toys own range more to your liking, with the only range still made here in Britain. As with the biggest crop of farm sets, a few things often do still remain including farmyards that are colourful, hand painted and easily slotted together. But of course no farm would be the same without being made from wood, so expect each set to be made from MDF or ply, with materials such as plastic and cardboard also included.
Based on the selection below, we've favoured wooden toy farm sets that are made in scale, like 1:32, as its so much easier for the buyer to find matching farm toys like tractors and farm animals that are made to fit so nothing is out of place.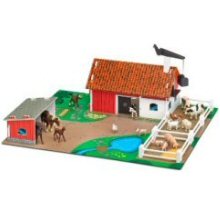 1. Micki Farm with Play Mat
This is an updated version of the now discontinued farm set of the same name, only this one doesn't include a silo. Unfortunately, even with Micki's second try of producing a worthy toy farm, they have failed to produce this one in a particular scale, but we've found Schleich and Bullyand animals most suitable with CollectA and Safari Farm toys quite fitting also, if not a tiny bit small. With a Scandinavian design, it's made from printed MDF with slot-together buildings. Working parts include a sliding barn door and a crane but a flimsy mat. Comes complete with fencing but all accessories shown are sold separately.
Where to Buy? Currently sold exclusively by Amazon.co.uk (From: £46.99)
2. John Crane - The Oldfield Farm
John Crane's very own toy farm comes under many names among them Tidlo and Branching Out, but you still end up with the exact same product minus the accessories shown in the picture. The design on the MDF is printed with a slot design for assembly at home with a solid base for ease of play. Oldfield Farm comprises of a barn with loft and ladder, plus an animal shed. The roofing is attached with magnets for easy access. The size of the base board measures like this: Width: Depth: 47cm x Width: 62.5cm.
https://www.amazon.co.uk/dp/B004NSUGUO?&tag=toyfar-21
Where to Buy? Amazon (From: £48.99)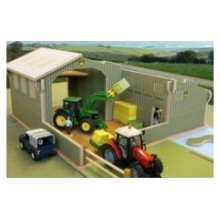 3. Brushwood Toys - My First Farm in 1:32 Scale
Here we finally have a farm set based on 1:32 scale, meaning it will fit in with Britains farm toys in the same scale. Assembly is required but with very easy slot together design. Its colour theme is based on modern farm buildings and includes a milking parlour to the left with a big swing gate to the front. It also includes a cow house, walled farm yard and unhinged roofing for easy access inside. Dimensions include: Width: 50cm x Depth: 50cm x Height: 24cm
Where to Buy? Amazon (From: £64.99)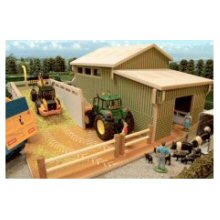 4. Brushwood Toys - My Second Farm in 1:32 Scale
Brushwood's follow up to their My First Farm come their latest release simply named, My Second Farm. Well finished in the same colour theme as before, the overall design is much different, this time featuring larger, taller buildings with access to the buildings coming from outside the farm yard. Again in 1:32 scale, it features a large silage clamp, tractor shed, loft, pens, swing gate and slurry ramp. Width: 50cm x Depth: 50cm x Height: 25.5cm.
Where to Buy? Amazon.co.uk (From: £49.99)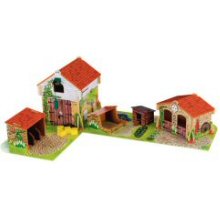 5. Early Learning Centre - Brambledale Farm
ELC's second attempt following on from the rather to realistic theme, but very dull Cobblestone Farm, the Brambledale Farm is far more colourful and more appealing to the young ones. As usual it is constructed in a fairly slim, printed MDF with self-assembly required. Includes 5 buildings, farmyard base and removable roofing. This product comes flat-packed in small sections that you simply slot together but no extra tools are required for assembly. Size: Height 42.5cm x Width 9.5cm x Depth 9.5cm. Weight: 2.9kg.
Where to Buy? Item as been discontinued and no longer available.
6. Le Toy Van The Farmyard
The Farmyard by Le Toy Van and Papo farm figures fit together hand-in-hand and are the best possible choice when introducing farm animals to this set. As common has it is now, Le Toy Van were one of the first to introduce slot-together toys and done so with this product for many years. It's made from a solid, MDF construction with a printed surface. It features a pig sty, barn, cow house, stable and farmhouse. Complete with a farmyard base that come in two with a set of fencing to enclose it all in to one farmyard.
Where to Buy? Amazon (From: £59.99)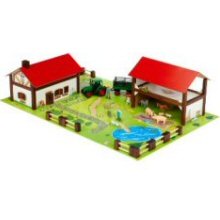 7. Simba Toys - Eichhorn Farm Playset - 37 Pieces
Luckily this Eichhorn Farm Playset has a huge 37 accessories to complete the set, or else you'll find it hard to come by related farm toys in a suitable size to match the current crop of toys featured in this set. Although it's certainly worth noting the total number does include the farm buildings, roofing and the base that acts like a big jigsaw puzzle. Overall, it features a farmer and his wife with a bunch of farm animals including; geese, cows, rabbits, sheep and a tractor and trailer set. The plastic figures are poorly made but it does make up for the number of accessories included.
Where to Buy? Discontinued and no longer available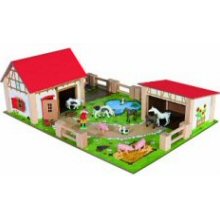 8. Simba Toys - Eichhorn Farm with 12 Pieces
Similar to the Eichhorn featured above, this one is targeted towards quality rather than quantity. When put together, you'll notice it's quite large in size and fairly bulky. This time it only features 12 accessories but it's just enough to accommodate the farm buildings and farmyard base which is highly detailed with a path, grass areas, and a duck pond so there is space for all the farmyard animals. There's also a set of fencing to enclose the yard and a lean-to barn for the horse. Finally, you have the farmhouse that doesn't quite look like it should, but does have a front door and window to confirm it is so.
Where to Buy? Amazon.co.uk (From: £31.99)
9. Papo - My First Farm
Take a look at the now discontinued Micki Farm with Play Mat then come back here and take a look at the Papo My First Farm (pictured) and you'll notice it's pretty much the same product, but renamed under the Papo brand. What's to say that hasn't already been said under the Micki Farm, other than the base board is of a different colour scheme, and confirmation this farm set does fit the Papo farm animal range perfectly. With no confirmation on the release of this product, it may be safe to say Micki produce this farm under the Papo brand and it probably why they stopped making the original under Micki's own name.
Where to Buy? Amazon.co.uk (From: £44.99)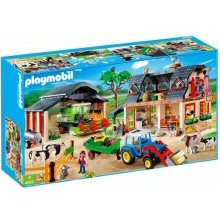 10. Playmobil - Mega Farm Set
This Playmobil Mega Farm Set includes just about everything needed to get a farm up and running in one box set which comes complete with 18 assorted farm animals, 2 farmers, fencing and over 70 accessories. Also included is a farmhouse and a huge machinery shed with combine harvester and tractor and trailer set. If it's a complete farm set you require that's not made from wood then this one is for you.
Where to Buy? No longer available to buy
Article by Junior Farmer - Republished on 1 April 2016 (Originally published on 4 July 2013)