John Deere toys
Toy makers love John Deere, that's why they officially license toys from one of the biggest and best manufacturers of agriculture and farm machinery in the world.
John Deere themselves are not responsible for the huge number of John Deere licensed products across many different toy ranges, but the individual toy makers who pursue and license toys under the John Deere brand are. So, whenever you buy John Deere farm toys like a tractor, puzzle or a baby toy, a little bit of the profit may end up in big John's pocket. Not bad for a company whose only objective is the manufacture of the real life tractors, until of course the reputable toy manufacturers came knocking at his front door. This is all in an effort to make toys in the world renowned iconic green, black and yellow.
There are up to, but not limited to 6 main toy ranges that John Deere toys are licensed under, among them the all time favourite die-cast John Deere toy tractors, also featuring ride-on tractors, puzzles, key rings, R/C and baby toys.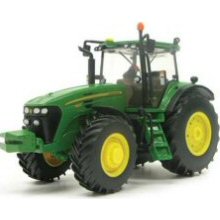 John Deere Toy Tractors
As a sole producer of farm machinery, John Deere farm toys are usually limited to a host of die-cast toy tractors based on their latest range in the series with farm implements and combines included. Replica John Deere tractors are made in 1:87 to 1:32, to a large 1:16 scale from popular toy brands like Britains, Siku and Bruder farm vehicle collection.
In Britains farm toys you have a huge selection of 1:32 scale John Deere toy tractors finished in green with yellow alloys and black trim, very similar to the Siku Farmer Series range. Expect, Siku produce John Deere tractors in a miniature 1:87 scale. And with Bruder, they make large tractors and vehicles.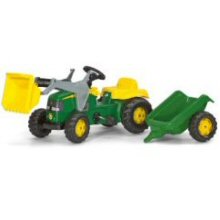 John Deere Ride-On
Ride on, or pedal tractors as they may be referred to are sit-on tractors made big enough for a toddler or child to sit and ride on using the pedals to move forwards and backs, with a combination of turning left and right with the steering wheel. John Deere ride-on tractors are made only in the form of a tractor, usually complete with a hitch to tow trailers.
Recognisable ride-on tractors brands who produce John Deere under license include Rolly who make big and bulky tractors for children 3 years and up, plus smaller tractors for toddlers. They are not as heavy as they used to be but a little lighter, they may include a real working front loader, trailer and even a horn.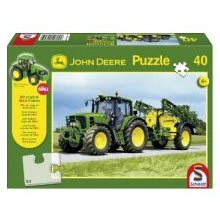 John Deere Puzzles & Games
Next up in the John Deere franchise introduces a huge selection of John Deere puzzles baring the John Deere branding with green and yellow boxes. As usual you can expect puzzles and games involving around a series of current and past real life tractors, with additional machinery and farm implements added to the puzzle or game. Jigsaw puzzles range from 40 to a massive 200 jigsaw pieces.
Among the number of puzzle makers who currently license John Deere puzzles are the biggest producer in Schmidt who make puzzles in tins and in boxes based on various age ranges. Kids tractor and farm jigsaw puzzles make useful gift ideas for tractor mad fans so John Deere is hugely appealing presents.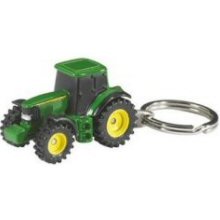 John Deere Gifts & Gadgets
Moving in to gifts and gadgets for children and adults alike you have a choice of green gifts in the shape of John Deere branded merchandise. Most notably is the Bruder John Deere key rings perfect for use as a key ring and as a stand-alone little Bruder toy tractor simply by removing the key ring gizmo.
On to more unusual, but ideal John Deere gift ideas you'll come across items for boys such as mugs and cups which are also ideal for dad but so are John Deere belt buckle and tractor theme cufflinks. This collection of John Deere products are fully licensed merchandise that may need verifying to confirm it's the real deal and not knock-offs or fakes.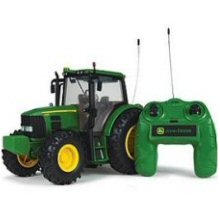 John Deere Radio Control Tractors
Radio control, or R/C as they are referred to are electronic replica toy tractors powered by batteries with realistic manoeuvring made by the hand-held control with features like moving forward, backwards, left and right. Radio control tractors do all the things as the real life machine can do complete with sounds.
Top makers of John Deere radio control tractors include Britains Big Farm in 1:16 scale and compatible with Britains tractors and implements in the Big Farm range. This range may also come under brands such as Learning Curve, RC2 and ERTL. Likewise, you'll find Siku 1:32 scale radio control tractors that fit well with Siku tractors. However, you can buy r/c trailers that feature lights and sounds.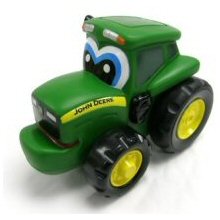 John Deere Baby Toys
Unusually, John Deere's range stretches all the way to baby products covering educational and teething items. First up you have Britains chunky plastic toy tractors suitable for 24 months and above, although adult supervision may be required for preventing chewing.
Apart from John Deere toys, you'll also notice John Deere baby products ranging from plastic teething toys and baby rattles with shape sorters also available. On to baby clothing you have John Deere baby bibs and warm fleece blankets for dads you are big on tractors passing down there passion to the little ones.
Article by Junior Farmer - Republished on 4 April 2016 (Originally published on 27 July 2013)
External Resources