Siku Super Agriculture
Siku's Agriculture collection in the Super Series is among the most popular choice in the whole Siku Super range, owning its popularity in farm toys today. Unlike Siku's Farmer Series, Siku Super is not based on any scale but each model measures up to a close 1:72 scale. Each model tractor and farm vehicle includes free rolling wheels, detachable driver's cabin and a standard hitch where available. Each farm vehicle is made from a die-cast with plastic parts and hard rubber tyres.
Today, Siku Super extends to more than 20 die-cast farm models in the agriculture range with a few built from Siku's own design. Each one is built to a consistent small scale with few models reproduced based on real life manufacturers of today including John Deere, Claas, Deutz and Massey Ferguson. Well these toy tractors extend to more than 10 model designs, also included in the collection are combines, trailers and farm utility vehicles for extending play value.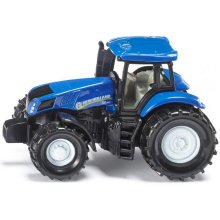 Tractors
There are 11 toy tractors in the Super Agriculture range from a simple stand alone model to tractors with accessories such as a front loader. As standard, each model comes complete with a rear hitch for hooking up implements, detachable drivers cabin, free rolling wheels and intricate detailing. Siku Super produced all their toy tractors based on real life machines including John Deere, Claas, Deutz, New Holland, Fendt and Massey Ferguson available in the Siku Super Agriculture range.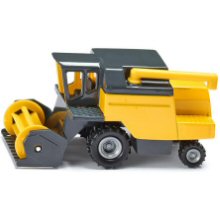 Combines
Unlike the Siku Super tractor selection, you'll only find 2 toy combine harvesters in the collection but they both provide real play value when your looking to expand the farm vehicle range. Siku's combine harvester is a model designed and produced from Siku's own specifications and is not based on any real life combine. However, Siku do produce a nice Claas Combine featuring authentic detailing and reproduced from the real thing.
Trailers
You can always extend play value with your Siku Super tractors with the introduction of a compatible farm trailer from a range of 5 models. Well toy tractors work well as stand alone models, with a tractor trailer you can create a spark in role play all over again making real use of your tractor. As you'll discover, trailers are made from less known brands, but you'll recognise a few on the roads today with farm trailers from Fortuna and Krampe including a toy tractor and trailer set from Deutz Fahr.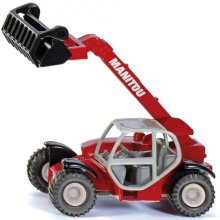 Utility Vehicles
Often you'll need a few more farm vehicles to complete various agriculture jobs and this includes transporting hay bales and farm sundries to and from the farmyard into the fields. Help is out with the use of farm utility vehicles, specially made to carry out important jobs conventional tractors are not designed for. With only one utility vehicle available in the range, you'll come across a Siku Claas Telehandler with a functioning extending arm and bucket like you get on tractors.
Article by Junior Farmer - Republished on 7 April 2016 (Originally published on 18 October 2012)
Related Articles