New Holland Toys
Today, New Holland are among the most popular officially licensed brand of farm toys currently available. Currently New Holland toys range from children's plastic toy tractors, die-cast replica farm models for collectibles, to radio control and pedal tractors finished in the New Holland iconic blue finish. For any die-hard New Holland fan the product range extends to merchandise to items such as key rings as a unique gift for children or owners of these big blue machines.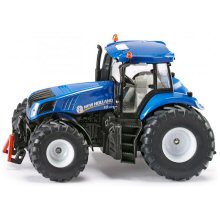 Toy farm vehicles
The New Holland toys currently available stands at more than thirty farm toys. These include plastic and die-cast toy farm vehicles with tractors and combines, to toy farm implements and a few construction vehicles, all replicated to the exact scale. Well many of these farm vehicles are finished in a striking blue, the toy farm implements are traditionally finished in the New Holland yellow just like the real machines.
Currently there are three major toy makers producing a line of New Holland toys and these include Britains, Siku and Bruder. With Britains New Holland toys you'll discover a small line of 1:32 scale toy tractors, combine and baler, likewise, Siku produce a similar range extended to 1:87 scale. Representing the large New Holland farm vehicles more must surely belong to the big and bulky New Holland Bruder range made to real life models.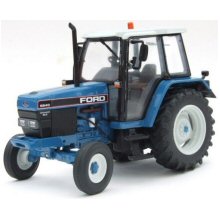 Models and collectibles
New Holland farm models made for collectors are usually made with intricate detail with feature more fragile and delicate and therefore would make them not suitable for children's play. New Holland replica farm models include farm vehicles with a whole line of tractor models. These fine model tractors can be matched up NH farm implements such as combine harvesters and balers or used as a stand alone display model which looks just as impressive.
One primary producer of New Holland model tractors are Universal Hobbies, a specialist farm model manufacturers producing replica models from all major manufacturers. Well Universal Hobbies have a long line of NH models available, you'll be sure to find model tractors from the full series carrying a full line of attachments. Additional toy brands producing a line of New Holland models similar to Universal Hobbies include ROS and Motorart.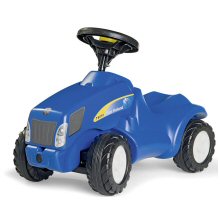 Ride-on toys
Incredibly, New Holland toys extend to ride-on pedal tractors, or sit-on tractors known to many. Well these beautifully built pedal tractors scale off on design-wise and struggle to replicate the real thing due to weight and size restraints, these ride-on tractors are still a winner. Expect to find the New Holland pedal tractor finished in a perfect blue, black trim with silver alloy wheels, with maybe a little yellow.
The two major players in producing these delightful ride-on tractors include pioneers in ride-on toys Falk and Rolly. These brands produce their toys with all the accessories required to extend farm play in the garden. With real working steering, possibly a horn, a front loader for picking up sand, you can dump it all in to a matching NH trailer hitched to the back of the tractor. Made to be as lightweight as possible, these bulky outdoor toys will sure last the test of time.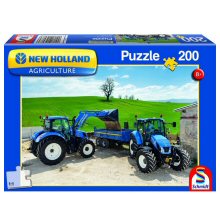 Merchandise and gifts
Get the young farmer interested in the New Holland brand or find a special gift idea for a New Holland fan in your family with a present baring the New Holland logo, or what about a replica New Holland tractor key ring. Like any major brand their is sure to be official merchandise presenting the company and these items can come in forms. New Holland merchandise for adults can include a key ring for the tractors keys or a puzzle for any tractor mad fan.
Article by Junior Farmer - Republished on 4 April 2016 (Originally published on 16 September 2012)
External Links: