Guide to children's ride-on tractors
Before you go out and buy a ride-on tractor take a look at our advice below before you invest.
Buying a kids ride-on tractor can be a difficult task and whether you have a small budget or it's the overwhelming selection available to you - we hope to narrow down your choice and make it a little easier for you. There are plenty of ride-on tractors for sale in the UK and among them are tractors sold on there own, ride-on tractors with trailers, front loaders with tipping action and even lights and sounds.
If you keep your browsing to the top manufacturers in ride-on tractors, you'll save yourself a lot of trouble there, and these include Rolly Toys, Falk and Smoby with Britains farm toys just having the one available. But if you want something bigger, than it's the Italy manufacturer like Peg Perego who produce big American ride-on tractors.
Take a look at our 10 top list of things to look out for before you commit to buying a kids ride on tractor.
1. Shop for correct size and age group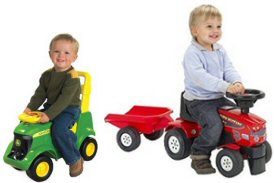 There are many ride-one tractors for sale today, each one made to fit different size children. And with that in mind the manufacturer has built the sit-on tractor based on age range. But this is only a small guide to buying for your child's size. Like clothing, sometimes age doesn't mean much so a size up or down is the way to go. Also, a less likely thing to look out for is maximum weight as you don't want to be caught out on weight restriction. A little tip: view photos of the child's ride-on tractor you're interested in as there might be a kid you can compare to.
2. Light weight or to heavy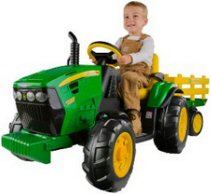 This day and age the big, bulky ride-on tractors doesn't mean heavy and hard to ride. Smaller, ride-on tractors aimed at toddlers usually come under 3kg, but you can expect tractors for kid's age 5-6 range weighing 8kg all the way up to 13kg. But if you go for the heavier model you might expect the pedal power to be smooth and easier to ride. If you can head off to the shop with the same model in stock or and ask for a test drive before committing.
3. Comes with attachment like front loader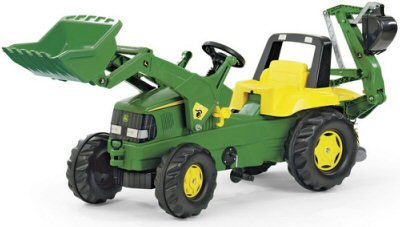 Don't assume the ride-on tractor comes as is, if you shop around you'll find ride on tractors with trailers, front loaders, lights and sounds and even wheels and seat adjustments. So if you want to add real play value to the young tractor driver's role playing go with an attachment like a front loader for picking up dirt and sand for dumping.
4. Parts widely available from manufacturer or buy online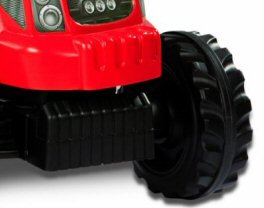 Every once in a while something breaks, and with that in mind be sure to look around for replacements in the wheels and pedals as they are the most likely to break first seeing as they take the most punishment. You can see if extra parts exist before you buy by contacting the maker directly (see manufacturers links on the bottom of this page) or search online from the seller or retailer you purchased it from.
5. Comes with a rear hitch for a trailer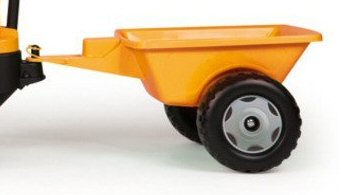 If you have a limited budget you can go ahead with the purchase of an affordable ride-on tractor and if you like, you can add to it later in the shape of a trailer. Just be sure the tractor you purchase has a rear hitch available and the manufacturer offers trailers and accessories.
6. Best to stick with the most reputable brands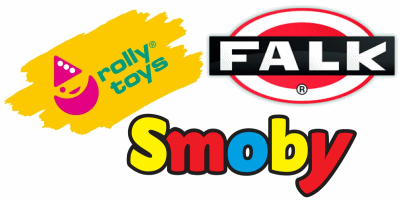 The best manufacturers in ride-on tractors in the UK include Rolly Toys, Falk and Smoby - so look out for those brands. Less reputable brands may offer a far less superior product and intern may lead to problems down the line when after-sales or parts are hard to find or not available at all.
7. Battery powered vs. pedal powered tractors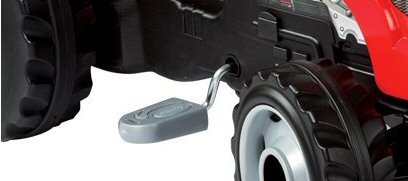 In our opinion pedal powered ride-on tractors are the best option for any budget and for the child. Not only will kids get more exercise from the pedalling but less mechanical parts means less things go wrong.
Electric ride-on tractors are extremely expensive - in the £400.00 range - and are heavy and prone to things going wrong. There's very little exercise involved for developing kids and they do move quite slow.
8. Does it come with a trailer or can you get one later

You can buy a ride-on tractor and trailer these days without taking an extra hit on your budget. The thing is if you buy the trailer with the tractor first time around, then you won't be overwhelmed with the hassle that goes into buying trailers later. Buy a ride-on trailer on its own later then you have to take into consideration compatibility like the hitch and tow bar fit.
9. Supervise the new tractor driver
For first time ride on tractor driver in all ages, it's important they're supervised from the start. For toddler's age 3 years and up it's vital you walk behind them as they pedal along. A few things could go wrong like riding a bike for the first time. They may become unbalanced and tip over to the side, hit a pot hole so look out for those, or they may lean back to far. If it's possible at all it won't be such a bad idea to get them a kids cycling helmet.
After some practice and experience the older kids can be left alone to enjoy the ride.
10. Make sure you have the storage and play area available
Before you go out and invest in a ride-on tractor for the young driver, don't be disappointing when you find out you have no storage space as the kid's bedroom may not be the best place to keep it. With that in mind, you can storage it in the hallway or perhaps the garden shed.
If you plan on leaving it out in the elements in the garden consider what damage the weather could do to it as it just sites there - because the weather can damage it in many way. That includes damp getting to the steel bars and fasteners which will rust and even make it hard to pedal or not at all.
Published by Toy Farmers on 20 November 2015
Related external links
Links to official manufacturers web sites: