Case IH toys
You have to hand it to Case IH, they may not be the best known manufacturer but they are well known on the toy circuit thanks to a huge collection of Case IH toys.
Thanks to toy makers need to expand their toy tractor range across all major agriculture manufacturers we get to enjoy Case IH in all their glory, but in a toy version. You might say Case IH toys may not be the first choice on kids shopping list, this is due to the more recognisable brands, but Case are just as impressive as there counter-parts. Best known for their bright red finish with black trim, Case IH toy tractors are produced on their real life series, so expect to find small machines plus the the huge ones to do all the heavy work.
You'll also find a fine collection of toy farm implements and machinery to work with the toys tractors, plus radio control toys and most importantly Case IH merchandise for collectors and enthusiasts alike.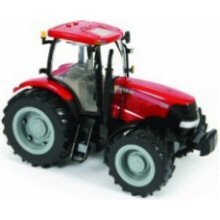 Case IH toy tractors
We present to you a remarkable collection of die-cast Case IH toy tractors baring the Case IH crest and features. Among the best replica model toy tractors currently available must be the Britains Case IH selection beautifully down sized to a 1:32 scale, made compatible with Britains implements.
Case IH toys are not just limited to Britains farm toys, major toy makers including Siku re-produce nice replica models, plus brands who produce scale models for collectors only, so they don't qualify as toys. Whether you're looking for die-cast scale models or toys, be sure to look out for Britains Case IH first thing for the widest selection currently available.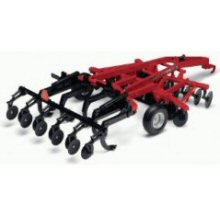 Case IH toy machinery
Where there's Case IH toy tractors there will be matching red Case toy farm machinery and implements. Although Case IH don't have a huge number of machines to go with the tractors the small number available will fit just nicely with Britains farm toys.
Currently, Britains are the largest producer, both past and present, of Case farm toy machinery made in die-cast and plastic. Up second you have Siku Case IH toys including a number of farm toys in 1:32 and 1:87 scale in their Farmer Series. You also have miniature Case model tractor machinery in Siku Super Series in a 1:72 scale.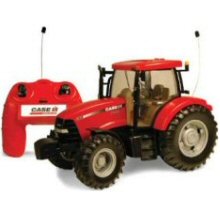 Case IH radio control
Enjoy Case IH toys in a very exciting R/C toy tractor version, complete with remote control and batteries. This radio control tractor does all the things regular R/C cars can do but with manoeuvres mimicking the real life machines.
Britains R/C Case IH toy tractor come in a 1:16 scale and will fit all the farm implements in the Britains Big Farm range.
In the box you'll expect to find the tractor, remote control and a set of batteries to get you going straight out of the box. It has a long range to so take it out of the garden and test its compatibility across rough-terrain like mud and sand.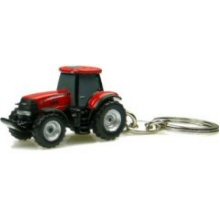 Case IH gifts and gadgets
There's not much in the way of Case IH gifts for children at this time but there is a tractor key ring that also acts as a Universal Hobbies die-cast toy tractor once you remove the ring away from the toy. Simply throw in your Case IH key ring with your farms and you'll never know it was a key ring to start with.
For Case IH fanatics or just fans of this fine machine you also have the option of officially licensed merchandise in the shape of mugs, clothing and footwear, plus books, furnishings, decor and even pet accessories in with the red Case IH theme. We don't currently bring you these products but with a little search you'll sure find Case IH products for collectors and tractor enthusiasts alike.
Article by Junior Farmer - Republished on 7 April 2016 (Originally published on 03 August 2013)